What's the most evil thing you do in game?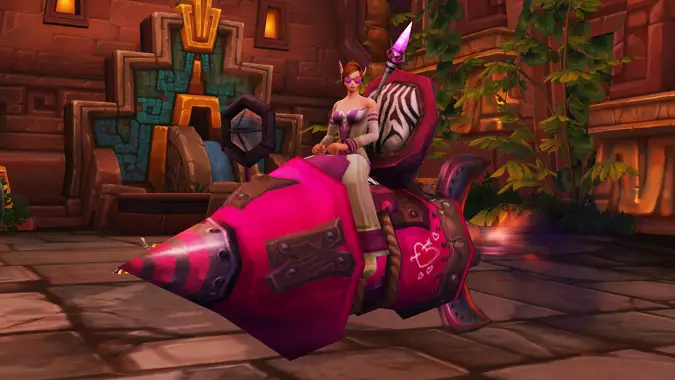 If you ask Mitch, it was probably the other day when I replied to his comment about how much love he had in his heart with "Apparently not enough to get the Love Rocket." [Editor's note: Yup.]
Yes, I felt bad immediately after saying it. At least a little bit.
I was lucky enough to get the Big Love Rocket three years ago, and I have a confession to make: I ride the Love Rocket during Love is in the Air. Only during Love is in the Air. It's a little evil. I can't help it.
There is a bit of thought process behind it though, and not entirely for nefarious purposes. The mount has an insanely low drop rate, and I honestly never expected to get it. It's one of those things where you have use it occasionally because it's just so cool to have. However, it's also obnoxiously bright and oh so very pink. And I'm one of those people who likes to match their mounts with whatever flavor of transmog they happen to be wearing that week. Pink isn't exactly a common color for WoW gear, either, so there are limited transmogs I can choose from. As someone who swaps transmogs every so often, I don't want to be stuck wearing a certain thing forever. So it only makes sense that I have a super special and pink transmog around Valentine's Day. And it also makes sense that I would use the super pink and heart-adorned Love Rocket mount during that time.
It's just that I also take evil joy in riding it at this time because I know people are taking every alt they can trying to get the mount. And it amuses me that it's also a little ironic that this happens to be during a festival celebrating love.
So what about you? What innocuous but evil things do you do in-game for your own amusement?