WoW
Feb 27, 2019 5:00 pm CT
In LFR, the robotic G.M.O.D. mount now drops from Jaina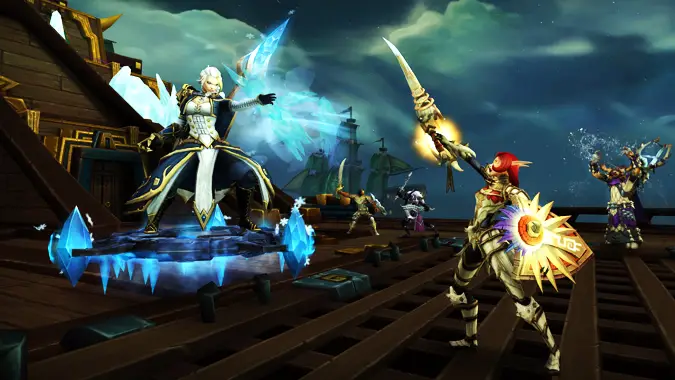 As the final wing of the Battle for Dazar'alor raid opened yesterday, the World of Warcraft dev team announced a last-minute hotfix. Instead of dropping off High Tinker Mekkatorque — the first boss in the wing — the new G. M. O. D. mount,  will now drop off the Jaina encounter.
With a hotfix that is now live, the G.M.O.D. mount now has a chance to drop when Lady Jaina Proudmoore is defeated on Raid Finder difficulty (was High Tinker Mekkatorque).

— WarcraftDevs (@WarcraftDevs) February 26, 2019
I'd guess the reason behind this is to avoid people from leaving a group cold after Mekkatorque. Even the Wowhead comments include references to using a vast army of alts to try for this thing in much the same way people push for the Love Rocket seasonally. Most people don't care whether their fifth alt is kitted out, so if the mount is on the first boss in the wing it stands to reason lots of people are going to leave afterward, or just zone in and drop immediately if the raid already progressed past this point.
Everyone who's been around the LFR block has a horror story about sitting at Garrosh or Archimonde or Argus the Unmaker, waiting for that last handful of people to backfill. We've also known the drudgery of being that backfill — personally, I never killed Mythrax on LFR because so many people dropped group during G'huun and I was always the backfill. After a couple months that was demoralizing enough that I just stopped queueing.
While there may be suggestions to put a band-aid over the problem — maybe a different queue for just one boss, for instance — the real issue continues to be that LFR is inherently a mercenary pursuit. I'm not sure there's a fix for people not caring about the welfare of strangers there — we can't exactly rely on Blizzard to completely reverse human nature, after all. I'm sure having an LFR-only mount like this will only help boost the numbers of people who have progressed onto tougher content but just want that mount, and having it on that final boss will give them incentive them to stay. Hopefully, this also decreases the number of people who actually want to run LFR who get stuck on that last boss with no end in sight, too.