"Where do these stairs go?" What movie lines do you use when playing WoW?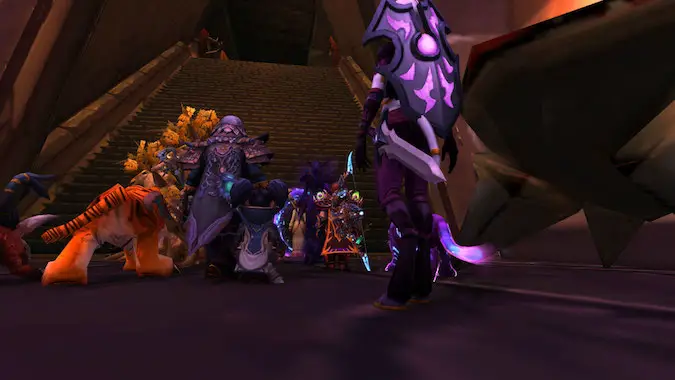 I'm not one to utilize macros. I understand they have value in gameplay, but I can't seem to get them to work properly for me. The one type of macro I can do is one attached to an emote. I have a lot of /say or /yell emotes because I can get those to work. What do they say? Generally speaking, they are movie lines. Good writing is good writing regardless of the medium.
My guild ran Black Temple for The Burning Crusade Timewalking event recently. We couldn't get the waves of adds down on Shade of Akama, so we avoided him and decided to go pick on Teron Gorefiend. Oh boy! I get to use my favorite macro. "Where do these stairs go?" Everyone in the guild knows this is coming when we encounter a long bank of stairs. The route to Gorefiend is perfect. Other bosses — like Gurtogg Bloodboil — may be located in a lower level, but Bloodboil only has stairs after you defeat him.
Everyone waits at the foot of the stairs. I /s my macro and those who know respond with the correct answer. What's that? You aren't sure of the correct answer? Here. This clip answers the question. Is there a more quotable movie? We often use — when a boss will wipe the raid — "The next time someone asks if you're a god, you say, 'YES!'" and "Choose the form of the destructor!" or "Remember our client — the nice lady — who paid us in advance — before she got turned into a dog."
Monty Python and the Holy Grail is another movie which factors into raiding. In addition to all the Monty Python references in the game, some encounters are just made for quoting whole sections of the movie. "Your mother was a hamster and your father smelt of elderberries." "Go away or I shall taunt you a second time." "How do you know she's a witch?" "Help! Help! I'm being repressed."
The first rule of the Brawler's Guild is that we don't talk about the Brawler's Guild. It's "that place, you know, under the tram." When asking for help in guild chat, "I'm going to make you an offer you can't refuse." We have guild swear words but using them can provoke cries of, "Language!" — all done, of course, in good fun.
What movies do you find yourself quoting as you wander through World of Warcraft? What are your favorite quotes from those movies? Is there one movie or one line or lines which your guild or group of friends comes back to again and again? Good writing — whether it's one word or a whole scene — seeps into our lives and can show up at precisely the correct time.