WoW's Crucible of Storms raid opens its doors on April 16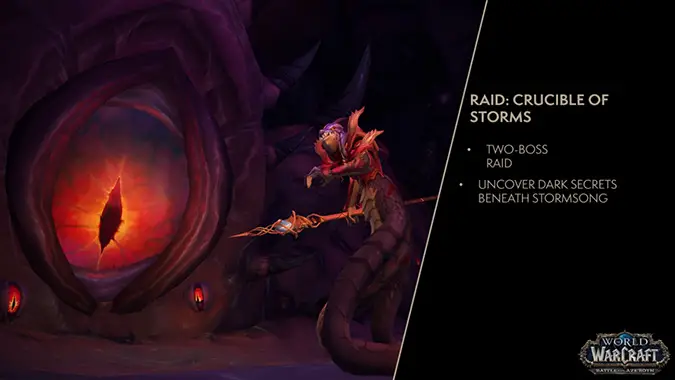 We now have a date for when Normal and Heroic raiders will get to see World of Warcraft's upcoming 2-encounter raid, the Crucible of Storms. Kaivax spilled the beans on the forums in response to a player's question about whether or not we'd need to do the upcoming raid to unlock the Zandalari or Kul Tiran Allied Races.
Also, the current plan is for Crucible of Storms Normal/Heroic to open on April 16, 2019, and Mythic/Raid Finder to begin a week later on April 23.
Battle of Dazar'alor is still quite new – a majority of organized raiders are working their way through their initial preferred difficulty, with higher difficulties to follow for many, and the final Raid Finder wing of Battle of Dazar'alor just opened this week.
"So much death here, so much power." –Xal'atath
It should be pointed out as this is a 2-encounter raid, the entire raid will be fully available as soon as Raid Finder opens on April 23. Since Crucible of Storms will be bringing back the kind of weird on-use or equip effects that we've seen in raid encounters like Deathwing — if you remember the end of Dragon Soul, there were a plethora of trinkets and weapons with unique and powerful proc or on-use abilities such as Gurthalak, Voice of the Deeps. Every piece of loot from Crucible of Storms has a similar design element to it, so even if you're already geared, this raid will be a nice place for sidegrades with unique impact on your gameplay.
This raid will also be where Xal'atath's story continues. Ever since Shadow Priests were forced to leave their beloved stabby spouse behind, they've been clamoring for more story about them. Now, as soon as April 16, we'll get to fight The Restless Canal and Uu'nat to find out just what Xal'atath has been up to since the end of Legion. That last quote from Kaivax doesn't exactly fill me with boundless optimism that Xal'atath is exactly going to help us this time around, but we'll find out in a little over six weeks.
Are you already done with Dazar'alor? Are you ready for this expansion's version of Gruul's Lair? That's what I think of when I see it, anyway: a nice two shot raid that can be completed in a single night. I have always liked smaller raids, so I'm personally pretty excited.