Overwatch's Baptiste has a favorite food and a notorious best friend — but Blizzard should share that in more than a forum post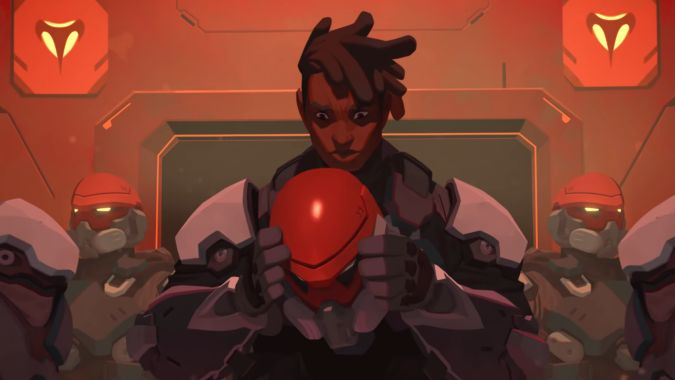 Sombra and Baptiste are good friends, and she's been keeping an eye on him ever since he left Talon. This story detail — along with several other questions both lore and gameplay related — was revealed in the Overwatch Q&A post about the new hero. It's the kind of lore detail that sparks ideas and theories about Overwatch's story and ongoing character relationships for the future.
…Except it's written on a craftless Q&A forum post that will get lost over time. Imagine if we learned about Baptiste's favorite food, pork griot and lalo, in a short story or a comic. Instead, we get it in a dry column of blue text that's entirely disconnected from the fiction itself. It's sad, really. Some information, like learning how to pronounce Baptiste's name — the "p" is pronounced, but not the second "t" — are useful tidbits that fit a quick forum post. But other information — such as how Talon slowly tricked him into doing horrible things — deserve more.
This forum post is why fans struggle to invest themselves into the story, especially when the team itself makes it clear that story is not a priority for them. There's little effort put into transforming these ideas into something more elegant, or even something in the game itself. It's all about building a game to win and lose, not a fiction to interpret and reflect on.
The gameplay stuff fits the simple format, at least. The Q&A assures us that if Sombra hacks or EMPs Baptiste, he won't be able to use his Exo Boots to spring high up into the air — the fact that it worked on the PTR was a bug. It's also mentioned that Baptiste's ability to grant invincibility to his team with his Immortality Field isn't an Ultimate Ability simply because it's exciting — a perplexing design choice considering how powerful it is in practice. Lastly, it sounds like Baptiste will go live "within the next couple weeks," which probably definitely means next Tuesday.
With the launch of games like Apex Legends and even existing games like League of Legends where the stories are strictly outside the games themselves, it's starting to get ridiculous when even the writers at Blizzard don't or can't express the fascinating fiction of Overwatch in anything but a forum post. I don't know about you, but I've been wanting more for a long time and, judging from the company's current chaotic status, I'm not optimistic.