WoW
Apr 24, 2019 7:08 pm CT
Tons of cool mounts are coming in 8.2, no matter which activities you like doing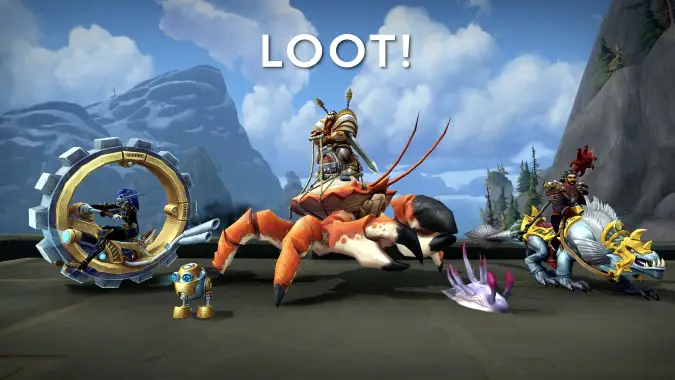 We're getting so many awesome mounts in the new zones in patch 8.2. Some are from reps, some are from drops, some are even from quests. No matter what you do, you're going to have your hands full collecting all these.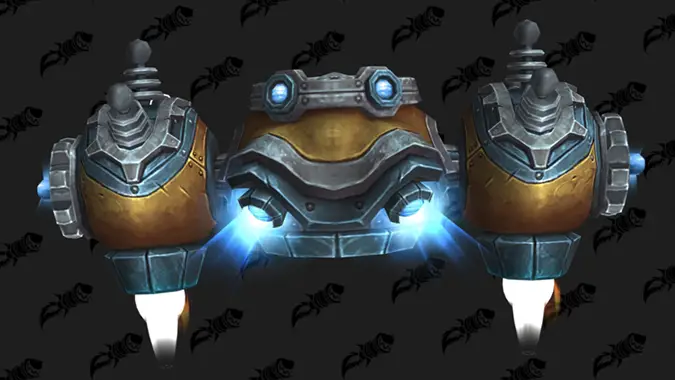 Robots and Tidestallions and Crabs, oh my!
It makes sense that by going to Mechagon, we're going to get a slew of robot-themed items. This also holds true for the mounts. I love the sheer amount of mounts and how they all look pretty cool, from all kinds of activities.
First of all, completing Battle for Azeroth Pathfinder, Part Two will net you a fancy mechanical parrot. Two mounts come from Operation: Mechagon — King Mechagon's private Aerial Unit R-21/X and guard-like Mechagon Peacekeeper. If you're unlucky in the dungeon, getting exalted with Rustbolt Resistance will get you a rustier and more resistance-themed version of King Mechagon's mount. It's 524,288 gold though, so pretty pricey. You can also get other mechaspider mounts similar to the Peacekeeper. Rusty Mechanocrawler is a drop from rares on the island and Scrapforged Mechaspider seems to be a reward from a quest where you build the mount.
That fancy wheel mount is available in two versions. The one we saw, Keys to the Model W, is a reward from the meta achievement for Mechagon, Mecha-Done. The other, Rusted Keys to the Junkheap Drifter, is a drop from one of the island rares. And finally, the robotic cat, Mechanocat Laser Pointer. This is the interactive quest mount that we can customize with paint colors. When you collect all eight, you get the fancy Battletorn Blue tint.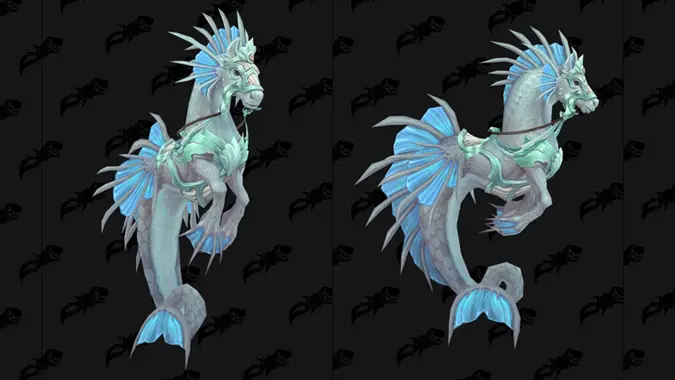 Over in Nazjatar, we get Tidestallions! These are just so beautiful. Several models have been datamined, but we only know about three of them. Fabious, the most fabulous and beautiful, is a drop from the rare of the same name. The inky version, Inkscale Deepseeker, can be purchased from two vendors for 150 Nazjatar Battle Commendation, which seems to be a currency from the battle event here. The third, a crimson version, doesn't have a source yet. Sadly, these look to be underwater-only, though commenters are holding out hope that they could float like the Abyss Worms.
Nazjatar also features Waverays. Two are available from the faction reputations — Unshackled Waveray and Ankoan Waveray — for 250 Mark of Azshara. The currency is listed as being bind on account, but Seafarer's Dubloons were as well during beta, so it's unclear if it's intended. The Unshackled are also supposed to be the Horde allies and the Ankoan are the Alliance allies, but both mounts are listed right now as coming from the same two vendors, which means they could be available to both factions if it's not a bug. There are two more as rewards: Azshari Bloatray from the meta Glory of the Eternal Raider achievement for Azshara's Eternal Palace, and Silent Glider looks like a drop from a zone rare.
That crab we saw from the patch 8.2 livestream, Snapback Scuttler, could be another zone drop. It's the cool one that scuttles sideways. Lastly, there are a few Snapdragon mounts. Deepcoral Snapdragon and Snapdragon Kelpstalker looks like quest rewards, while Royal Snapdragon appears to be another zone drop.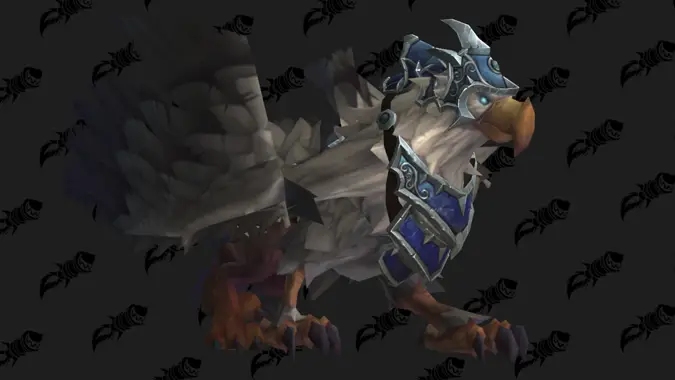 Current reputations have new mounts, too, but they fall short
The current factions apparently like us a little bit more, as they're offering new mounts at exalted reputation. They're not exactly groundbreaking, but will help with your mount counts for any collection achievements you may be short on.
Alliance get three colors of gryphons, available from Proudmoore Admiralty, Order of Embers, and Storm's Wake. Likewise, Horde get their choice of differently colored pterrorwings from Zandalari Empire, Talanji's Expedition, and Voldunai. They're also not cheap: each mount will cost you 90,000 gold. Honestly, these are incredibly lackluster for the price. The cynical part of me thinks these are just a low effort way to remove gold from the economy. I could see owning one, but three re-skins is just boring. I thought they weren't worth the price when they first appeared on the PTR at 50,000 gold; the most recent patch increasing them to 90,000 gold made me scoff in disgust.
But hey, Kua'fon can now fly, and we get a quest for a Direhorn mount, the Child of Torcali.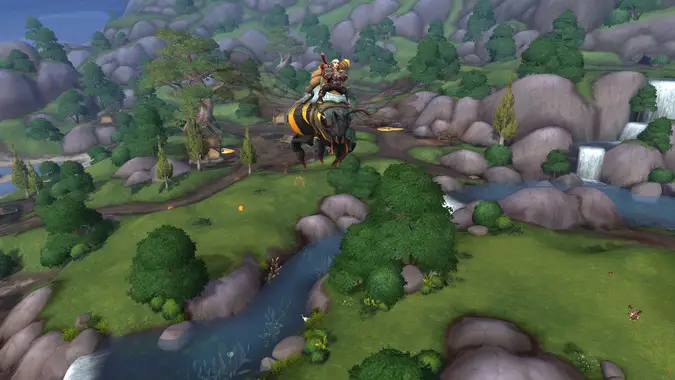 Will we ever get the Bee Mount?
And last but not least, the one we've all been waiting for may be finally emerging from its hive. Last year's BlizzCon indicated the Bee Mount would come in patch 8.2, but we haven't heard or seen anything since. Datamining revealed hints of a "bee faction" with which to earn reputation. This could very likely be the Alliance's version of Kua'fon. If so, I may be even more tempted to level up my Alliance alts. Who can pass up the chance for a bee?