Off Topic: Suskityrannus joins Moros intrepidus as our knowledge of the Tyrannosauridae increases in small steps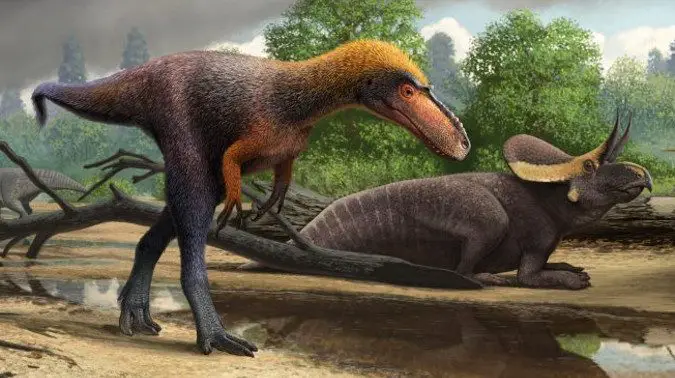 A couple of weeks ago we talked about Moros intrepidus, one of the most fascinating fossils we've recently discovered. This small member of the Tyrannosauridae sheds light on the evolutionary history of the whole family of related genera, showing how quickly they moved from relatively small dog sized predators to the massive giants they'd become by the end of the Cretaceous. However, it's not doing that all by its lonesome — in fact, its similar sized cousin Suskityrannus hazelae has now arrived and is helping shape our awareness of exactly how, where and why Tyrannosaurs developed.
Suskityrannus is named for the Zuni word for Coyote — at three feet tall and nine feet long, it was a small, gracile animal likely weight sixty or seventy pounds at most, similar in size to Moros. It's a touch younger at 92 million years old, so it shows how the line of Tyrannosauridae developed in North America, being found in the Zuni Basin in New Mexico, so not enormously far away from Moros in Utah. While the proportions are likely similar to Moros, the Coyote Tyrannosaur has so far only been found in two juvenile specimens so we're not sure what its ultimate top size was — it could have been a little bigger when it was fully adult.
It's also a more complete find than Moros, which helps us nail down what the anatomy of the animal was and how it had developed in the three million years between the two animals. There's speculation that a mid-era extinction event left room for smaller predators like this member of the Coelurosauria to get truly big, but we just don't know enough yet to say that for certain.
The two animals, when looked at together, tell us that the Tyrannosauridae had a roughly ten or so million year period to start getting big before we see their later, larger relatives like Albertosaurus or Daspletosaurus. We still don't know how we go from a three meter long predator like Suskityrannus to a seven meter long Appalachiosaurus in fifteen million years, but we now know that the change might well have happened after these animals stalked the American Southwest, which is exciting news. You can read more about Suskityrannus and think about how amazing the conditions that led from these smaller animals to their larger cousins must have been.