What is even happening with WoW Classic itemization?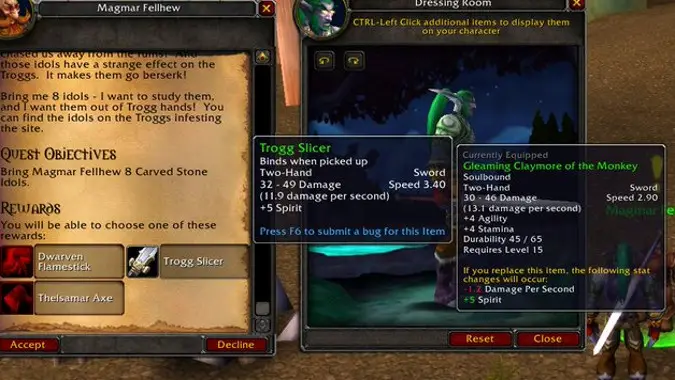 I mean, I knew it was always this bad. I did. And yet, I'd forgotten just how bad it always was. I'd forgotten that I could get a 2h weapon from a quest — the first one I'd seen, and one I really would have liked to get before I broke down and bought a drop on the AH instead — and that weapon drop would be itemized with nothing but Spirit.
It's a Spirit 2h weapon.
That I'm expected to use on my Warrior. Heck, it wouldn't even be good on a Paladin at level 16, the level I got the quest. It's simply not a good idea. For a Warrior, that bump of Spirit means that I'll regenerate my health a little tiny bit faster out of combat, and frankly, I already have food and bandages doing more work than an entire set of Spirit gear would accomplish. And this is just one of many examples of truly bizarre gear I'm stumbling across on the WoW Classic beta, to equal parts chagrin and delight. Yes, it really exists. Cloth strength gear. Yet more Spirit swords. I'm not even talking about all the weird random gear like the shield with bonus shadow damage on it. I mean, Shields with Int or Spirit make sense because out of the three classes that use shields, two would make use of those, but shadow damage? Was there a plan to give Warlocks shields and I missed it?
So yeah, Classic had some really wack itemization. And I knew that going in, but seeing it makes me nostalgic for the live game, where there's almost always a plethora of quest rewards and one is usually quite suited to my spec. I have yet to get a Spirit 2h on my BFA melee characters, not even a +shadow damage shield for my Death Knight who can't equip shields. But what do you think? Does the broken weirdness of the quest gear just make WoW Classic feel more like home to you? Or would you have been okay if they'd maybe tweaked that gear a little?