WoW
Jun 13, 2019 12:16 pm CT
Blizzard seems to confirm a level squish is coming to WoW… via a random survey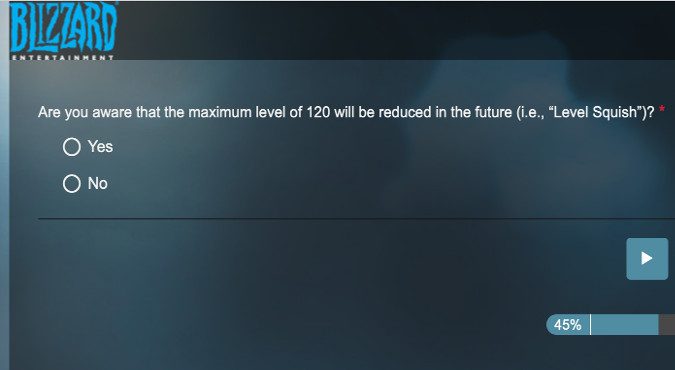 Keeping in mind this isn't exactly an official confirmation, it's still a pretty big deal. Reddit user Nivens posted about a survey Blizzard asked him to fill out. The survey, screenshotted above, goes a lot further than Blizzard has in the past. Though Ion Hazzikostas mentioned a level squish was a possibility in a Q&A stream, these survey questions treat the squish as fact, asking "Are you aware that the maximum level of 120 will be reduced in the future?"
Now, I haven't gotten this email, so I can't speak to its veracity, but we at least have to entertain the possibility that it's real.  Instead of considering whether they should do a level squish, Blizzard is now trying to determine just how much players will hate it when they do. The phrasing of these questions seems to deliberately frame this as a will happen, not a could happen.
And that's news to us.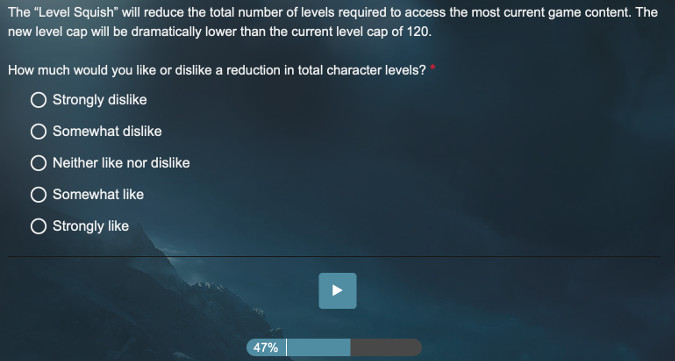 The when, where, and how of a level squish
The language in these questions is what drives my reaction to them. In the opening question and the follow up, the word will is used. Blizzard "will reduce" the maximum level and that level "will be dramatically lower." Those are not ambiguous phrases.
That makes me wonder how far along they are in the design of this. Is there an internal build of World of Warcraft with a level squish already implemented? How drastic is the squish, if so? How will the squish be implemented?
Or are these survey questions a trial balloon intended to determine exactly how visceral player response will be? Because both the survey results and the community's reaction are sure to be noticed by Blizzard as they consider this change.
Have you gotten this email? Seen this study? Let us know in the comments what you think about the idea, and what kind of level squish you'd find most palatable.