BlizzCon 2019: New Key Art and the Virtual Ticket announced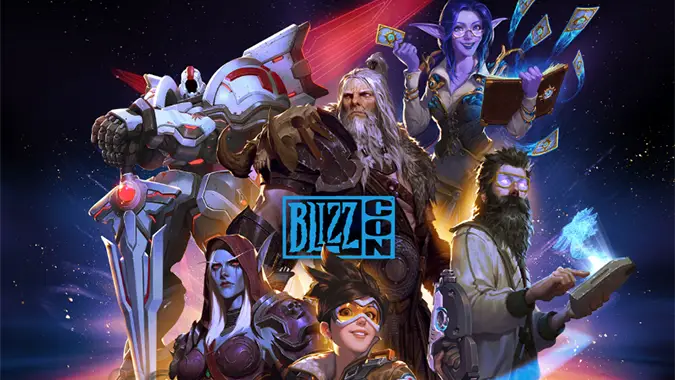 So this morning, Blizzard posted the new key art for BlizzCon 2019 to their Twitter, and in the process, got a lot of people wondering what Sylvanas' role will be in the upcoming expansion. It also sparked some interest in the possible future of Diablo, with the grizzled old Barbarian from Diablo Immortal front and center in the image… although that could just be the Barbarian from Diablo 3, now that I look at it.
56 days until BlizzCon! We're excited to share with you this years #BlizzCon 2019 Commemorative Art.

Virtual Ticket launches next month 🎉 pic.twitter.com/8jb4Yz6v8r

— Blizzard Entertainment (@Blizzard_Ent) September 6, 2019
We have Tracer, the Barbarian, Sylvanas, Egon Stetmann from StarCraft, Elise Starseeker from Hearthstone, and a surprising appearance from Mecha-Tyrael, representing Heroes of the Storm. I'll be up front and admit that I didn't know for sure who that was at first and thought maybe it meant Blizzard was coming out with another game, but several people have assured me it's Mecha-Tyrael.
Now, what does this key art actually mean for BlizzCon 2019 and whatever they're going to be announcing? Does it mean we'll finally get a release date for Diablo Immortal? Will the fact that Sylvanas is right in the thick of it mean that she not only survives the end of Battle for Azeroth — something we already know thanks to John Hight at this year's ChinaJoy — but may well have a major role to play in the next expansion? What does it all mean? We have no idea, but it seems likely she'll be front and center in the next WoW expansion based on her appearance in the key art.
We also found out that the Virtual Ticket goes on sale next month, but that wasn't really news — it has to happen sooner or later, after all. What do you all think about what the key art might suggest for the news we're getting at BlizzCon? Is Heroes of the Storm going to get more of a push than we have been led to expect? Is Egon Stetmann going to kick off a year of StarCraft hype? No. No he is not. But I definitely think we'll get, at the minimum, a Diablo Immortal announcement, and maybe even a Switch port. They're porting everything to the Switch nowadays.