WoW
Oct 7, 2019 6:00 pm CT
A brief but significant quest on the patch 8.3 PTR hints at the future of the Forsaken and its leadership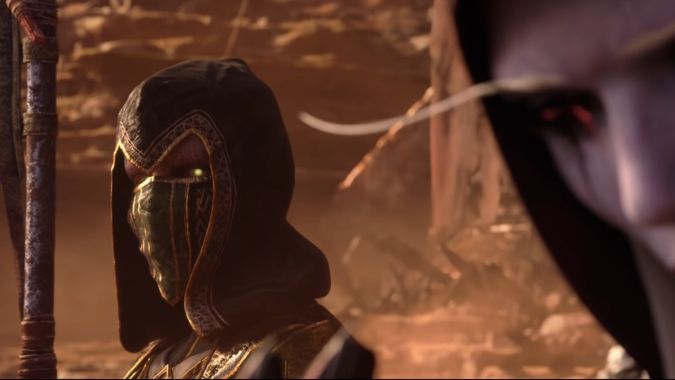 The surprise announcement of World of Warcraft patch 8.3 came with loads of info about what we can expect from the final major patch of Battle for Azeroth. But what it didn't touch on were some of the smaller, more minute details that would be awaiting us. As a result, I was pretty surprised to log into the PTR and see that Lilian Voss had a quest for me regarding the future of the Forsaken.
Spoiler alert: Stop reading here if you don't want to see spoilers for patch 8.3.
When you encounter Lilian Voss on the Banshee's Wail, she has a quest with the end goal of helping the Forsaken regaining the trust of the Horde. She's not too forward about her plan — just that it "could be  abig step… or all go horribly wrong." She asks you to meet her at the Bulwark in Tirisfal Glades, and doesn't say much more.
What transpires next is a major step in the future of the Forsaken, and one which features some big names in the world of the undead. It starts off with Derek Proudemoore and Calia Menethil together, awaiting Lilian's arrival. They talk about their various connections and what drives them as undead. But what becomes even more surprising is the arrival of Delaryn Summermoon, Kitala Starshadow, and a couple of Dark Rangers — all Elves turned Undead at one point or another.
The meeting and quest are brief (and likely unfinished), and you can read the entirety of the exchange below. Please note, however, that it appears a line has been cut toward the end. My hunch is that, after Derek says he knows the pain the undead suffer, Calia has a response that is either not complete or (more likely) being hidden for the time being. However, she does have another line of dialog datamined, but there's no telling why it's not currently part of the in-game exchange. Given there's no follow-up whatsoever, I can only imagine we're going to get more as the PTR progresses.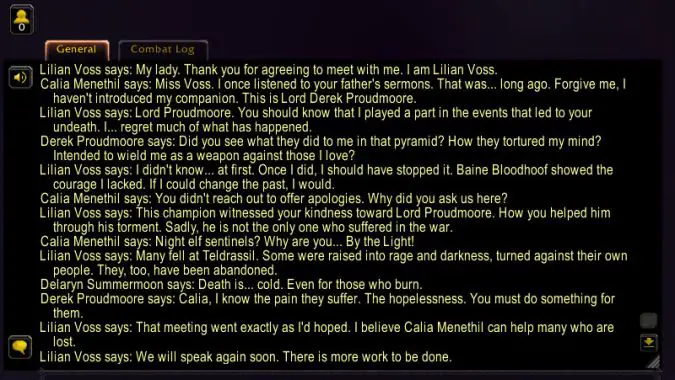 All in all, it's an interesting — and surprisingly quick — step forward for the future of the Forsaken. It's a bit too hard to tell whom Blizzard is setting up to be the new leader just yet, but Lilian and Calia are definitely front runners. Personally, I'm starting to love the idea of a council. Lilian could represent the Forsaken who've been here from the beginning of WoW, Calia could represent the newly turned Humans and those with family still alive, and Delaryn could represent the Elves turned during and after the Battle of Teldrassil. There's still a lot that remains, but I'm excited to see where it goes. What do you think this all means for the Forsaken?