News
Oct 10, 2019 5:00 pm CT
Fanatics is now running the Blizzard Gear Store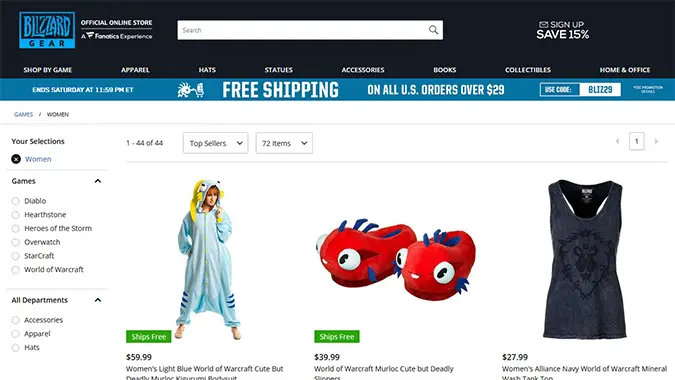 The Blizzard Gear Store quietly made a big change. According to the front page, the entire store is now run by sportswear seller Fanatics. You might recognize the name if you've bought any Overwatch League jerseys or merchandise. Now that name will be on any Blizzard-related shirts, throws, or other merch — and that might be a problem.
Fanatics became quickly notorious for poorly making $90 Overwatch League jerseys. There were reports of colors being wrong, stitching being bad, and letters being illegible. You can check out a Reddit post on the matter and get a sense for the distaste of Fanatics' merchandise. Many people were unhappy with what they were promised and what they received, causing many to buy jerseys from other places like Into the AM.
This was a big enough problem on its own, especially because Blizzard signed an exclusivity deal with the company last year. OWL fans were stuck with inconsistent, expensive gear. But now it seems like that will be a concern for everyone looking to buy Blizzard stuff.
The Blizzard Gear Store now says it's a Fanatics experience and has all the links and small print to reinforce that. Blizzard will no longer produce its own gear. Fanatics will — and they might do it badly. That means that anything from the store might come to your door in poor condition. That's especially bad as we near BlizzCon and people will look to purchase exclusive gear from the event early. Nobody is going to be happy when they get a piece of Alliance or Horde gear and the color is the wrong shade of blue or red.
It's unclear why Blizzard opted for Fanatics as an official partner for more than OWL gear, especially given the poor fan reception. It's also unclear if Fanatics has stepped up their manufacturing process — or at least their refund and return policies — in the wake of people finding that their stuff is roughly made. For now, you might want to wait to order any clothes from the official Gear Store before we know the quality is worth the cost.