The Queue: I am going to BlizzCon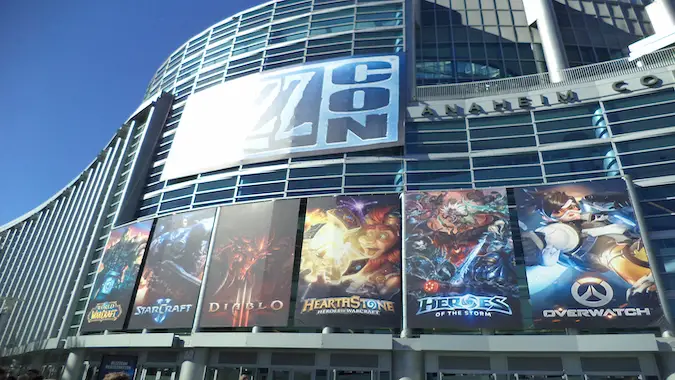 I am simultaneously excited and terrified.
Welcome to the Queue. Insert joke based on words Queue rhymes with here. Seriously, I am freaking out.
---
@CAZ_TASTROPHE WAS KIND ENOUGH TO ASK
Are you going to Con Before The Storm?
Watch this site for more information on that in the future. I will likely, at the very least, duck my head in and say hello.
---
REDMAN WANTS TO KNOW ABOUT BUYING ME A DRINK
Will there be a meet up and can I seat next to you during the opening ceremony? And can I buy you a beer?
I'm sure there will be some form of meet up, but I don't know yet. I have no idea how seating works at the opening ceremonies or if I'll even be able to get a seat. But I'll admit, the real reason I chose this question to answer is to make a little bit of a PSA.
I'm an alcoholic. I haven't had alcohol in decades, and I'm pretty determined not to ever do so again. So, if you see me at BlizzCon, I'm going to basically refuse any and all drink requests. I've had people try and slip me alcohol in the past to 'loosen me up' or because they thought it would be funny, but for me, alcohol causes severe problems and I simply don't want to risk it.
This is nothing against anyone, it's simply a decision I've made. I'll happily drink a bottle of juice or soda in the same area as people who are drinking alcohol, I have no problem being around it, but I am extremely paranoid about any drink anyone tries to buy or hand me.
---
SEAN LEE WANTS TO KNOW WHAT PANELS I'M EXCITED FOR
Which panels are you most looking forward to? I know I'm dying to attend one of those voice actor panels in person.
The phrase "all of them" is usually a wishy washy deflection, but I have never been to a BlizzCon. This is my first time. I've been reporting on Blizzard games since 2007, I've watched my coworkers go year in and year out and never gotten to meet any of them, to the point where it almost feels impossible that I even exist.
So when I say all of them I'm not BSing you. I'm literally shaking right now as I write this thinking about it.
---
LADYRHEES ASKS ME ABOUT ANNOUNCEMENTS
What are some of the things you're hoping to be announced and are you going to get in the question line?
Diablo 4.
Like, seriously, Diablo 4. That's my big answer. That's the game we've all been waiting for, that's the announcement I want them to make. I think at this point Blizzard is aware that the thing we're all hungriest for is Diablo 4.
I have no idea if we'll get a Diablo 4, but it's what I most want. I'm also curious about the supposed Overwatch 2 that may or may not be a sequel at all (I hope it isn't) and whatever the next World of Warcraft expansion will be, but Diablo 4 is, I think, necessary.
---
GINAC ASKS ABOUT SHADOW VS. VOID MAGIC
What's the difference between the Shadow magic that Warlocks use and Void magic that Shadow Priests use? Do they both come from Old God corruption?
In game, there is no real difference between them. Shadow magic comes from the Void, which is itself a kind of cosmic rejection of the Light. They are equal and opposite forces that exist in perpetual conflict but which are also both necessary components of creation. In short, you don't get everything without both of them.
Shadow magic can be seen as pure Void, in fact. The problem we have when we talk about Void magic is that there are terrifying, powerful Void entities like the Old Gods and the Void Lords, but those beings are not the Void itself. They exist because of and are linked to the Void, but just like the Light is far more than the Naaru, the Void is far more than the beings that dwell within or suffused with it. Indeed, the Naaru point to that greater linkage between Light and Void with their very existence, switching between Light and Void as part of their life cycle.
The Void exists because the Light eddied and some parts of creation grew dark and cold after the Light first touched all things. It is the reaction of reality to the attempt by Light to be all things, all places, because you can't have meaningful existence if everything is all the same thing. You have to have contrast to have uniqueness, and without that, you can't actually have anything. The Void is that creator of contrast, and the magic that draws upon its power is that of Shadow, the opposite of Light. The Old Gods know much of the Void and may impart its power, but they are not the creators of the Void, nor are the Void Lords behind them — the Void existed before either, and they are not the source of its power.
Okay, so that's the Queue for this week. Guys, I'm going to BlizzCon.