The 10th Annual Running of the Gnomes is done, but the WoW Classic version is next week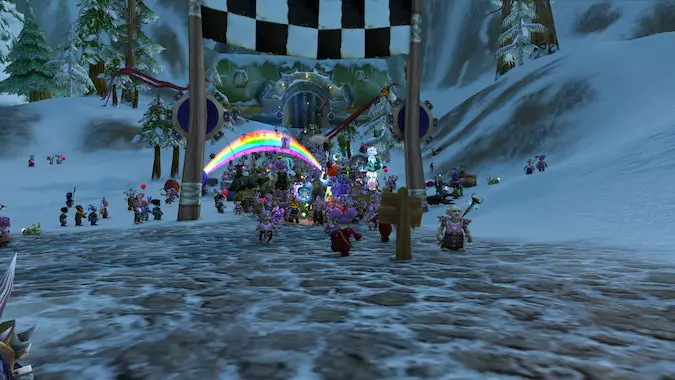 Ten years. It's been ten years since the first pink-haired Gnomes ran from Coldridge to Booty Bay to raise money to fight breast cancer. It's back again this year and better than ever. On Saturday, October 12th at 7:00 p.m. Eastern time on the Scarlet Crusade server, thousands of pink-haired Gnomes will, once again, set off from Gnomeregan for Booty Bay.
Here's how to get in on the action. Make a pink-haired Gnome on Scarlet Crusade. Log in around 6:30 p.m. Eastern Time (or earlier if you don't mind hanging out) and join one of the many guilds created just for this event. As of this writing, there are 11 confirmed guilds. There will be people from each guild spamming General Chat. Responding "INVITE" to one of the spams gets you an automatic invite to that guild. People donate based on the number of Gnomes that make the trek, so joining one of the official guilds is the way to be counted. Words of warning: If you are going to run this on a trial account, you won't be able to join one of the guilds. It's the way the game works.
Over the ten years of doing this, pink-haired Gnomes have raised a total of $42,840.00. They raised $200 in their first year, with the highest amount since being 2017's $19,336. That year, some major donations were made. While seeing the total go up would be nice, that was a one-time explosion of donations. This year's goal is $5,000 — but hopefully it raises quite a bit more!
If you can't be online on Saturday and want to help, this year's charity is The Pink Fund and you can donate by following this link. The Pink fund provides financial support to breast cancer patients to help them with basic needs. Often times, simple things like grocery shopping or paying the water bill become insurmountable when a patient needs to focus on their health. Lowering stress levels by helping with basic need helps with healing.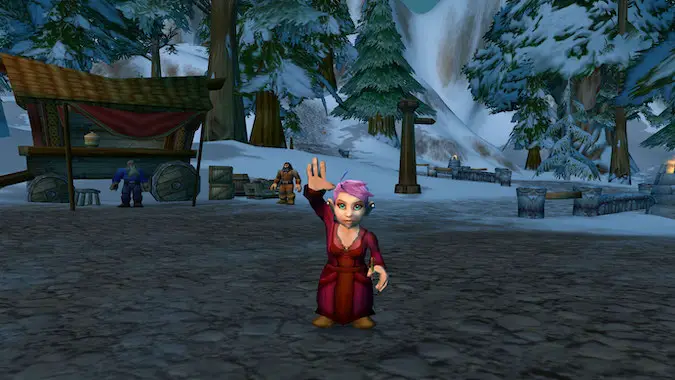 Gnomes are running in WoW Classic, too.
New this year is a Running of the Gnomes on WoW Classic. For this run, you'll need to make your pink-haired Gnome on the Bloodsail Buccaneers server. It works the same as in retail WoW. Log in around 6:30 p.m. Eastern Time and join one of the guilds hosting the event to make sure you get counted. At 7:00 p.m., you'll run from the Gnome/Dwarf starting area to Booty Bay. This is the original route of the run, which changed with Cataclysm when the Gnomes got to start in Gnomeregan.
On the same date as the retail Running of the Gnomes, you can participate in The Great Gnomeregan Run on all servers. You start outside Gnomeregan and run to Booty Bay, passing through gates along the way. This goes all day so — if you can't run with the Gnomes in the evening — consider running the course during the day and making a donation at the above link.
As in previous years, there will be a Gnome Run Discord channel. You can find that here. Afterwards, the Gnomes run to Orgrimmar to kiss or lick the Horde leader. Whom will they find in front of the throne this year?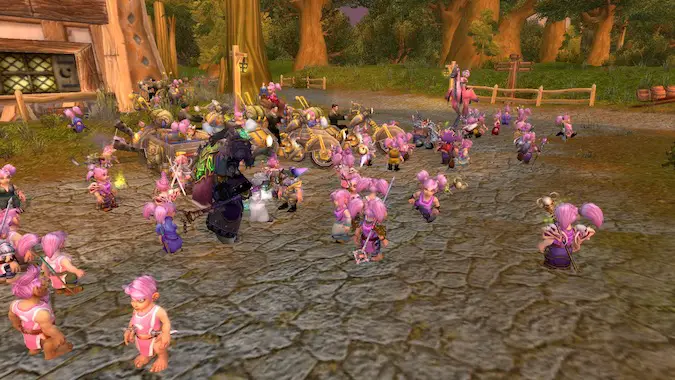 Why do this?
In case you're curious about why this happens, October is Breast Cancer Awareness Month. In reality, there probably isn't a person in the game who hasn't had a family member or friend deal with cancer in some form. Breast cancer is not just a woman's issue; men can get breast cancer. As organizer Dravvie says, "We feel even if the pink hair and cute outfits or all these Gnomes remind just one single person to check themselves to get a mammogram or encourage that family member who hears to go in to the doctor who's been putting it off we've done our job for the year."
While you're running, take some screenshots and post them to social media. Use the hashtags #GnomeRun2k19 #GnomeRunClassic, depending upon which run you're doing. Be prepared for lag. Oh the Gnomanity of 2016, when the server repeatedly crashed and would send you back to some random point along the run. We took it in stride and began to predict when everything would freeze and crash. 
So, grab a bunch of guild members and consider doing this as a group. If someone in your group is a tailor, make a bunch of pink mage weave shirts. Transmog is fantastic for having shirts available for your Gnome. My guild will be there. We make sure this event is on our October schedule. You should come. It's heaps of fun.