What other Blizzard characters should get a Deathwing skin?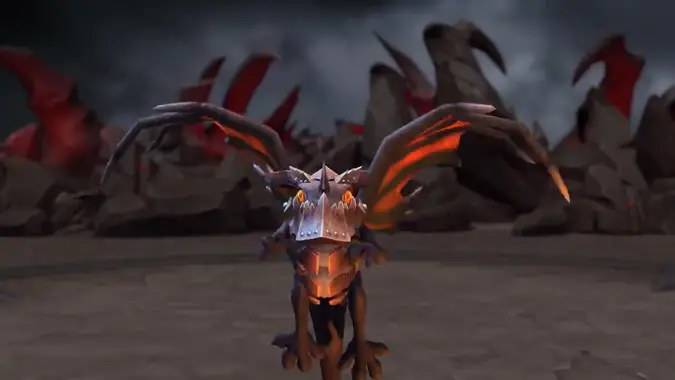 In case you hadn't noticed, we're fast approaching the 15th anniversary of World of Warcraft. To commemorate that auspicious event Blizzard is providing players with a chance to earn mounts based on everyone's favorite harbinger of destruction: Deathwing.
Elsewhere in the Blizzard family, Deathwing is making his triumphant entrance into Heroes of the Storm. Much like the lead up to Cataclysm, there are even earthquakes and ominous roars occurring at the start of some matches. Where the Deathwing goes other people follow. We saw the Twilight's Hammer buying into his madness in Warcraft and it looks like Heroes will be no exception.
Brightwing looks to be getting in on the action with an amazing skin of her own. That giant armored jaw might be the incentive I need to stop using her Flying Monkey skin. But giving a dragon a different dragon skin is pretty obvious. I wouldn't be surprised if we saw Alexstraza getting one too. What I'm interested most in is who else should pledge their allegiance to Deathwing's cause and bring havoc to the Nexus.
D.Va is already on board with her Destroyer D.Va skin. She looks so good in dragon scales — I'm surprised that Overwatch hasn't copied the idea and put it in-game. This goes doubly for the amazing Zarya Thunder Guard and Cyberdemon skins. But that means that there are now three different characters that have Deathwing on their minds, and we need at least five so that we can field a whole team. I love it when you can make a whole squad with synergy across their mounts and skins.
Probius would be hilarious: imagine just a giant Deathwing face floating around the map, plopping down little Dragon-y pylons and cannons. Plus I wouldn't feel as bad if I was killed by a Probe that looked like the scariest dragon in Azeroth's history. Cassia is already pretty well armored, it wouldn't be that much of a stretch to make that armor Elementium plates, and you could change all of her lightning effects into fire effects pretty easily. Or there's Hanzo! He's got a pretty good connection to dragons already — and bows do fit pretty well into Warcraft.
Those are just off the top of my head. It would be pretty great if this upcoming couple of months just featured Deathwing popping up into a bunch of Blizzard's games. Who or what would you like to see get a Deathwing inspired makeover? Would you like to see more Overwatch heroes get Deathwing skins? Would you use a transmog in Diablo that was his giant armored jaw?