WoW
Nov 6, 2019 3:18 pm CT
This week's reputation (and leveling) bonuses in WoW are unreal, so get to grinding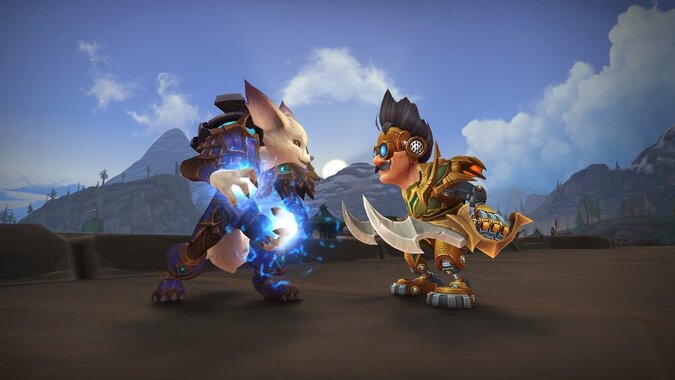 To celebrate WoW's 15th anniversary why not become friends with everyone in Azeroth? There are surely reputation-based relationships you've left on pause while you've traveled back in time to defeat notorious bosses, or factions you've been blind to as you shield your eyes with those spectacular glasses. By the powers of timely celebration, this week's reputation bonuses are tremendous.
We're talking about a game-wide 15% bonus to all reputation gains from the 15th Anniversary Event until January 7, Darkmoon Faire's 10% bonus until Saturday, the 50% bonus to reputation from World Quests until Tuesday, and — if applicable to you — the Human 10% bonus. That's a massive, massive increase to your reputation earnings with the many factions of WoW.
You'll want to take advantage of this by doing every World Quest imaginable. You might target the Vol'dun ones for the Vulpera, or the dailies in Mechagon for the Mechagnomes. Patch 8.3 is going to be out next year, and it would be a shame to miss out on the new Allied Races. And if you're still working on reputation to grab Essences on your alts, it's a good time to work on that, too — you could wait until patch 8.3 reduces Essence reputation requirement, but that's a long way away.
If you're still leveling alts, it's a good time, too: the 15% anniversary bonus and 10% Darkmoon Faire bonus apply to experience gains, too.
Plus, what else is there really to do between now and then? It's grind time until the sky shatters and the dead are free. Shadowlands will bring with it a whole batch of new reputations — and probably new Allied Races — to work on, so there's no better time than now to clean up your list.
You have roughly 59 hours until the first bonus drops off. That's a lot of time to finish out some of those reputations that you couldn't bring yourself to complete. There's really no excuse not to fill those bars and enjoy the fruitful rewards. They give you a unicorn and a title if you smash through 100 reputations. Who doesn't want a unicorn made of friendship? Not you. Drop the item level and the fashion for a moment and make some friends.