Off-Topic: Owlcat Games announces Pathfinder: Wrath of the Righteous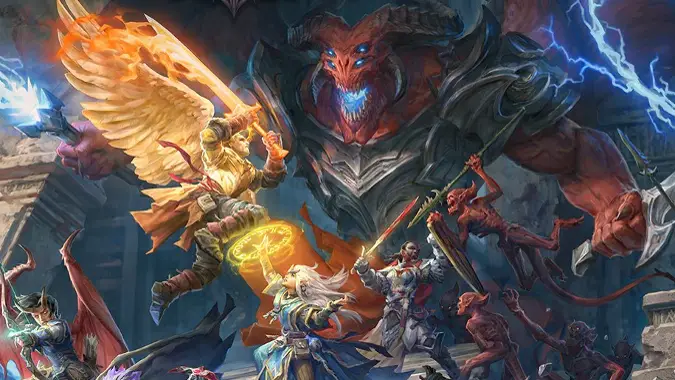 I'm on record loving Owlcat Games' Pathfinder: Kingmaker. It is a very solid distillation of what I loved in computer role playing games in the 90's — games like Baldur's Gate, and its sequel Icewind Dale, and even Planescape: Torment are clear influences. It wasn't perfect, but it did a lot of things right and it was a very compelling game that I played for a lot of hours.
So when Owlcat Games, the makers of Kingmaker, finally announced their next game based on the Pathfinder pen and paper RPG, I was excited. Wrath of the Righteous seems like a pretty ambitious follow up to a game that was, itself, a fairly ambitious first outing — adapting the Pathfinder style adventure path into a long CRPG that takes your character from a nameless adventurer to the ruler of a small kingdom while peppering your path to the top with perils including angry kobolds, rampaging trolls, and the machinations of an enraged exile from another world who seeks to build up and then destroy local rulers.
Wrath of the Righteous has one element I'm astonished by — it incorporates the Mythic rules that first debuted in the original Pathfinder supplement Mythic Adventures. This is by far my favorite single supplement for the original Pathfinder rules and it's one I've been hoping we'll see get updated for Pathfinder 2. Adapting the Mythic progression system to this new game will definitely change and expand how Wrath of the Righteous plays compared to the first game, and that's a great development.
Wrath of the Righteous is another game expanding a Pathfinder Adventure Path like Kingmaker was, it's not a direct sequel to that game — as a result I don't expect you'll be able to import your max level King or Queen from that game. But I'm still pretty excited to see how they go about adapting this new path — the Worldwound and the demonic hordes invading through it is a place I've actually always wanted to use in a game, so I'll definitely be looking with interest at that. We don't have a release date announced yet, so we'll just have to wait and see how Owlcat goes about making an even bigger and better Pathfinder game than they did last time.
Plus, they got Chris Avellone to come in and work on it. I'm ridiculously excited.