NVIDIA GeForce Garage makes Kristian Nairn possibly the coolest Warcraft-themed PC ever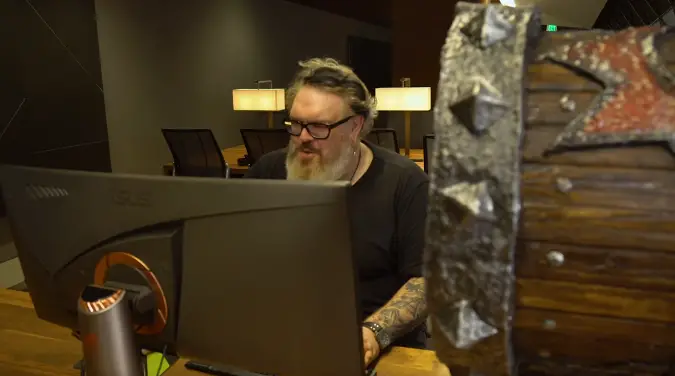 If you have been living in an ice cave in the frozen north, hi! Are you going to be at the hermit club meeting next week? Yeah, me neither. It's hard to get people who don't like to be around people to go to meetings full of people. Anyway, fellow Wendigo people, let me inform you that Kristian Nairn is one of us. I mean, just look at the fellow. He's an actor known for his role as Hodor on Game of Thrones, a DJ and musician, and a gamer for years and years — he even DJ'd at BlizzCon 2018. It's fair to say his love of gaming is a very real thing, and his love for the Horde dates back years. He's got a Sylvanas tattoo.
So when NVIDIA GeForce decided to make Mr. Nairn a gaming computer, they went whole hog. Instead of a mere modded case, the man who once was Hodor is getting a full scratch built Horde chest as his gaming rig. No, really. They really built him a giant Horde chest as his PC.
Hodor? More like Horde-or.

On the latest #GeForceGarage, we build an insane, Warcraft-inspired Horde chest PC for producer, DJ, and actor (Game of Thrones) @KristianNairn.

Thanks for coming by, Kristian! pic.twitter.com/RtayawZUvQ

— NVIDIA GeForce (@NVIDIAGeForce) December 9, 2019
Obviously this is pretty cool and if you're into cool case mods and builds it's worth watching for that, but for me it's more fun to watch just to see Kristian Nairn's reaction to the thing. I mean, it's a massive build — Nairn's not a little guy and you can see how big it is in comparison to him and how much space it takes up on that desk. But his delight at getting it seems pretty genuine and it makes me feel a little happier than I did before I watched it.
Nairn's love for gaming and the Warcraft franchise goes back decades, so if anyone deserved a computer like this, it's definitely him. And I have to admit, having a PC where you can open the top like that tickles my inner nerd pretty hard. I mean, if I ever get my choice of custom PCs with a Warcraft theme I'm going for a dinosaur dual wielding Ashkandi, but still, I'm happy for Kristian getting such a cool PC.