BlizzCon 2018 has three closing bands: Train, Lindsey Stirling, and — HOLD THE DOOR — it's Kristian Nairn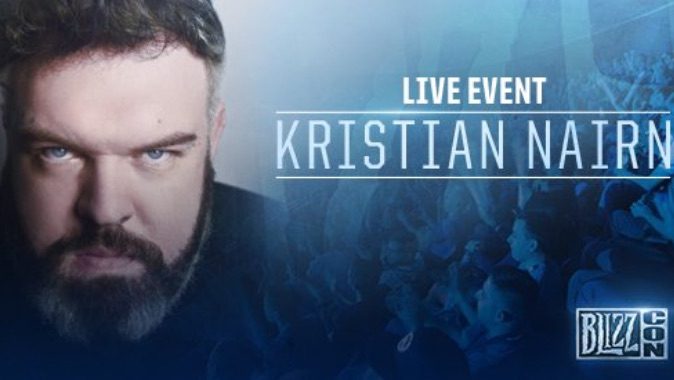 BlizzCon has a long history of big name musical acts playing at the Anaheim Convention Center. From Tenacious D to Ozzy Osbourne to Weird Al Yankovic, the closing ceremonies have always rocked us out at the end the con.
This year, Blizzard is setting a new standard for the closing show by headlining three different acts on three different stages on Saturday, November 2 — they are calling it the BlizzCon Music Festival. First up is the rock band Train. If the lyrics of "Meet Virginia" just floated through your head, then you have the right band in mind. Or maybe it was the multiple-Grammy Award winning "Drops of Jupiter". Or "Hey, Soul Sister"? You get the idea. They will be starting at 8pm PT on the Mythic Stage.
Next up, just 15 minutes later on the Overwatch Arena at 8:15pm PT, is our favorite doorman and WoW-enthusiast Kristian Nairn. You may know him from Game of Thrones or his love of Warcraft, but he also makes his living as a rave DJ spinning house music for years. You can check out his Soundcloud or the awkward meet up between the Irishman and Turpster below.
Fun facts about Kristian: this is not his first BlizzCon DJ gig, he has done voice work for WoW, and he sports a Sylvanas tattoo (which he may or may not be regretting at this point…)
Then at 8:30pm PT Lindsey Stirling takes to the Heroes of the Storm stage. It's hard to label her. She is a performance artist, a violinist, and a choreographer/dancer just to name a few of her many talents. She not only creates her own electronic-influenced music, but has also collaborated on many high profile projects like her joint effort with a cappella artist Peter Hollens to reimagine the Skyrim theme.
She also has done spectacular work with another a cappella sensation, Pentatonix. Take a look at her long-running YouTube channel for years of amazing music videos.
Those of you that have purchased BlizzCon Virtual Tickets will be able to watch any of these performances live, but only snippets later via replay. So break open that BlizzCon Virtual ticket viewing party kit and host your own concert at home! (If you're not feverishly playing the WoW Classic demo.)
I'll be at the convention again this year and while I usually skip the closing bands to get a few more minutes of demo station time, Lindsey Stirling's amazing sound may just pull me away this year.