What historic moment in World of Warcraft would you like to see as a cinematic?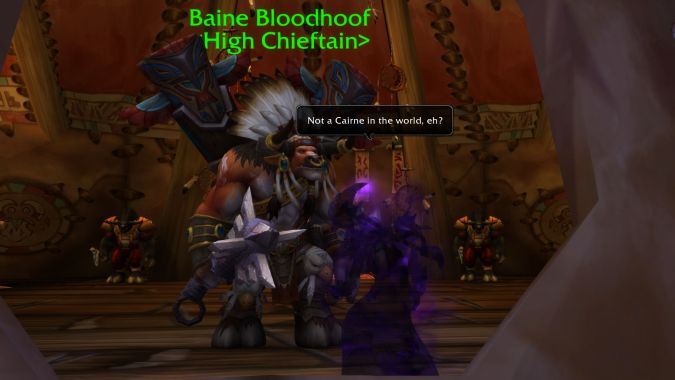 Wrath of the Lich King is a memorable WoW expansion for a plethora of reasons, ranging from gameplay systems to the in-game content itself to story beats and more. Somewhere in that range falls a major claim to fame: Wrath introduced players to the first-ever in-game cinematic, the Wrathgate. Since that epic battle, we've had more and more in-game cutscenes, each being used to showcase a major moment in the game's story. And with Battle for Azeroth, we've even had pre-rendered cinematics incorporated into the game.
But for every moment captured in a glorious cinematic, there are several that aren't. I mean, you can't make everything an awesome cinematic — then you're just watching a movie! Also the cinematics team can only be expected to do so much. Still, there are absolutely moments out there that seem like they'd make for some pretty awesome cutscenes. The first instance of Mak'gora between Thrall and Garrosh — the one before we actually went to Northrend — would have made for a really cool cinematic moment, and also would have opened the way for callbacks during their fight in Draenor's Nagrand.
Likewise, Cairne's battle with Garrosh — who apparently loved Mak'gora-ing everyone — before Cataclysm would have been awesome to see. Not necessarily because of the fight itself, but because it could have opened a whole new avenue for telling that story if we could see Magatha's pre-fight actions rather than have them (literally) spelled out. (Nothing against The Shattering here, either! I'm just interested in seeing how it all could have played out on screen compared to on page.)
Or how about the epic moment when it's revealed that Katrana Prestor has actually been Onyxia in disguise? That quest still gets brought up as one of the all-time greats, but can you imagine seeing Marshal Windsor take on Onyxia and all her Dragonkin with today's cinematic capabilities? Man, would I love to see that.
How about you all? What historic moment from World of Warcraft would you like to see as a cinematic (either in-game or pre-rendered)? And why that moment?