WoW
Jan 13, 2020 2:00 pm CT
Race and faction changes are on sale if you want to excel as Vulpera or Mechagnomes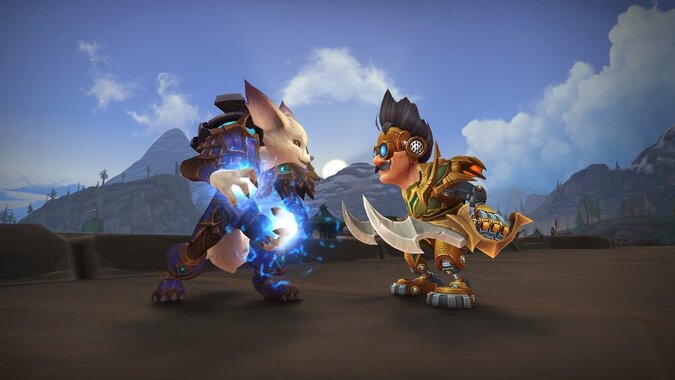 For anyone looking to swap over to a Vulpera or a Mechagnome for WoW's patch 8.3:, you'll be able to do it at a slightly cheaper cost than usual. Blizzard has dropped the Race and Faction change prices until February 3 in anticipation for Visions of N'zoth this week.
Race changes have been shaved down to $17.50, and faction changes have been brought down to $21. With these sales, you'll be able to give one of the new races a try, provided that you went through the process to unlock the Vulpera and the Mechagnomes. If not, you should strongly consider making the effort to raise your reputation with the two factions because both of them have incredibly powerful racial abilities.
Although some of the numbers have been a little inconsistent on the PTR, the Vulpera have not only their own Hearthstone-like ability in Return to Camp, but they have a bag of tricks that inflicts damage on enemies or heals allies. On top of that, they can take off 5 percent of their maximum health from the first bit of damage they withstand using Nose for Trouble. Mechagnomes get a stacking buff of their primary stat via Combat Analysis, and they can use Re-Arm to heal themselves for 20 percent of their maximum health when they get hit below 20 percent health. Both races — much like many of the other Allied Races — have super strong abilities that might make you want to swap regardless of their looks.
It's nice that Blizzard wants to add value to races that can only be unlocked after already having a high-level character, but it starts to make the old races look like jokes. A full-on racial ability rework might bring the old races a little more in line with the new Allied Races, but it might also dissuade anyone from spending the time and money to play them.
For now, you might as well make use of how strong these abilities are and swap over. Otherwise, you'll need to learn to be content your chosen race and hope that one day Blizzard might reconsider the current state of racial abilities.