What transmog do you only use for special occasions?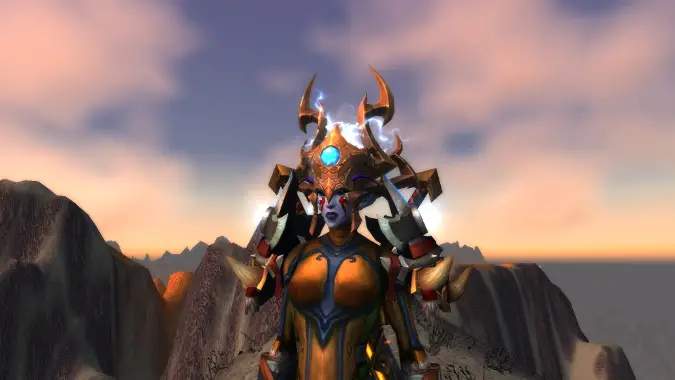 Okay, so this is in part written to again celebrate that I got my shoulders. But while looking for a transmog that I liked for the shoulders (because I'm going to be using them in all my mogs for a long while now), I hit upon the Doomed Crown of Lei Shen, an item I've had in my transmog collection for ages. It's a helmet I absolutely love, but it rarely goes with anything — it is, if I may be forgiven, a touch extra for most outfits.
I don't break it out very often, but it honestly has a solid color match and has that whole Jack Kirby designed this hat vibe going for it, so I figured I'd use it for this particular mog. And I really like how it pulls the whole look together, while also making me feel like Cate Blanchett is going to play my Night Elf in a movie.
There are a lot of looks that I only break out occasionally. For another example, one of my favorite weapon models in the game is Armageddon. It's a fantastic sword, one of the biggest and most distinctive two-handed weapon models. But it doesn't go with every look — I often pass it by for other, more easily matched weapon models and I'll only break it out for a transmog that really feels like it suits the sword's brutalist vibe. For example, Warrior Tier 3, especially the dark blue PVP variant, really suits it. But it's rare I find a look that I feel really works with that sword.
This is also why I don't use Ashkandi as much as I could, by the way. It's an awesome model, but the sword's red and black color doesn't work for every look. I need it to feel right, you know?
So I ask you, my friends, do you do this? Do you reserve certain items for specific looks? Are you the level of obsessed that it takes to actually sit down and build matching transmog sets? It can't just be me, can it? What beloved items do you have in your transmog collection that only get used rarely, when it feels like the occasion calls for it or the set matches so well it has to be?