WoW
Feb 3, 2020 9:57 am CT
Race to World First: finally we've reached N'zoth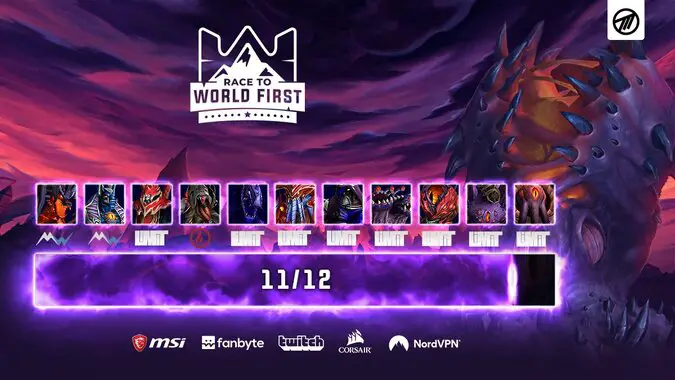 It's hard to believe that it's already been six days. Hot off the heels of a busy raiding weekend we're coming close to the end of the first week. There is just a day remaining for North American servers before the reset. So far this entire race Limit has been holding onto first place, but Method is right behind them. Pieces are still one boss behind, not having cleared the Carapace yet.
We've heard that Limit has spent between 140 million gold and 200 million gold on the race so far. I'm sure that they're not the only guild who's been spending big either. Most of that has gone towards buying high-level bind on equip items with the best corruption effects. Echoing Void could be responsible for how many melee damage classes we're seeing in Ny'alotha. Typically Mythic raiders will try and bring as few as possible since ranged players usually can swap to new targets faster, and have more time to avoid mechanics.
Il'gynoth and the Carapace of N'zoth fell to Limit in quick succession on days 3 and 4 of the race. Carapace did end up having some bugs that held up progress, but Limit was still the first to get it down. Il'gynoth is probably the biggest wall in Ny'alotha. The coordination and stamina required to beat the fight with any room left at the end will be taxing for every guild that attempts it. The current top 3 are the only guilds to have downed Il'gynoth, the rest of the top 10 are all working on beating him. The biggest issue in the fight is the Mythic mechanic that changes the Cursed Blood mechanic into a ring that changes in size over time. When it's dispelled it does damage to the raid through Cursebreak, with bigger rings doing more damage. But if someone dies with Cursed Blood on them their ring goes off. That can easily lead to a cascade of deaths as it might trigger other players' rings to go off as they die.
Il'gynoth and Carapace are also the only bosses that Method has done in way fewer pulls than Limit. Method downed Il'gynoth in 76 attempts and Carapace in 37, while Limit needed 101 and 68 to get their victories. Carapace did require some hotfixes to the sanity drain mechanic which could account for more than a few of Limit's wipes. Method was also using some very high corruption players on that encounter to squeeze out as much damage as possible. Including someone playing Blood Death Knight but not tanking. They managed to place 6th on the damage meters for the kill and had been playing at close to a hundred corruption.
"We're in a bit of a pickle." – @EiyaWoW #RWF #LimitRaids #WeAreCOL pic.twitter.com/RTgoYFuZjr

— Complexity Gaming (@Complexity) February 3, 2020
Finally, we're on N'zoth. The fight looks a lot like the other two Old God fights we've seen. There are giant tentacles, and you travel into the Old God itself to defeat a portion of it, weakening the outside allowing you to do damage. There are a ton of moving parts going on at once. On Mythic the whole first phase just doesn't exist. Half of the raid goes inside the mind at a time to deal with a giant facet of N'zoths psyche, while the other half is dealing with the aforementioned giant tentacles. When N'zoth reaches 70% it's time for the secret Mythic only phase. It turns out that your assault on Ny'aloth was just a diversion, and while you're busy with N'zoth in the seat of his power, he's been launching an attack on the Chamber of the Heart. You have to go and battle back his minions to allow Magni and MOTHER the chance to do their work.
At least that's how it's supposed to work. Limit managed to bug the fight out somehow and when they got back from helping Magni, N'zoth just de-spawned. Not only their N'zoth, but every active N'zoth across North American servers were reset. Limit had managed to get N'zoth down to 25% on that attempt by accidentally skipping a large portion of the mechanics.
Their best non-bugged pull so far has been 57%, while Method has only managed 74% at the time of this writing. There's some wondering about what looks to be an enrage at 13 minutes and just how much damage you'd have to be able to put out in order to beat that time. It's possible that there's another portion to the Mythic mechanic further down the line to help increase your damage to N'zoth. Or they're going to need another legendary cloak upgrade to help combat the sanity drain.
Outside of the raid we've seen some awesome developments on the charity front. Method has passed $25,000 raised for Save the Children this race, bringing their total donated to over $100,000! Limit has also been fundraising for Extra Life. I kind of hope that neither guild gets the kill any time soon so there's more opportunity to support those great causes.
No boss in Battle so far has died in the first lockout. Queen Azshara lived the longest at 12 days. While Jaina was the shortest at only 7 days, falling to Method just barely after the NA server reset. All of the end bosses have taken around 300 pulls to get, except for Uu'nat who took over 700 pulls before Pieces got it! I can't wait to see if N'zoth goes out with a bang or a whimper.