You can program the Overwatch Piano to play the Pokemon battle theme and more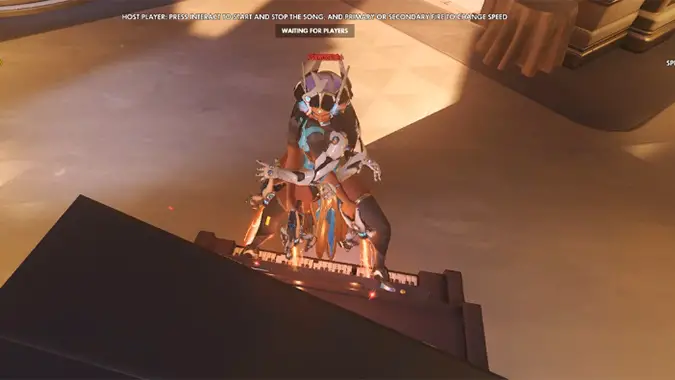 I would have never thought you could tap out more than Mary Had a Little Lamb or Jingle Bells on the piano in Overwatch's Paris map, but here we are. There's a Workshop mode that can take MIDI files and force computer-controlled bots to play them for you.
Take Reddit user Wengzan's version of the Pokemon Red and Blue battle theme. In the video, you can see what looks like a bunch of Symmetras stacked on top of each other quickly beaming the keys. It may look Lovecraftian as the many limbs of the Symmetra play the melody, but it's a fascinating use of the an outside tool combined with the Workshop creation tools.
I made a workshop gamemode that plays songs on the Paris piano with dummy bots. With it, I wrote a program that can convert MIDI files into arrays that the gamemode can read. Here's trainer battle theme from Pokemon Red/Blue! from Overwatch
Wengzan explained in the comments to the Reddit post that they used a website to convert a MIDI song into a form that Overwatch can read. You paste it into this specific Workshop mode and it will figure out how to interpret the notes for you. According to Wengzan, his song was only possible in the PTR version of the Workshop where several issues with lag were fixed. They provided a bunch of codes for different songs if you want to check them out yourself. All you have to do is paste it into the Workshop, press your Interact key to start it, and control the speed with your Primary Fire and Secondary Fire buttons.
Overwatch's Workshop is finally starting to become something that allows people to make non-PVP modes like this. When it first launched, many of the things you could do with it resembled game modes that were already in the game — minus a few ways to practice your aim, draw on walls, and play a version of Flappy Bird. With the major improvements to Workshop in the PTR, we should start to see a lot more non-traditional modes being created — or maybe in this case, composed.