The Queue: Everything is strange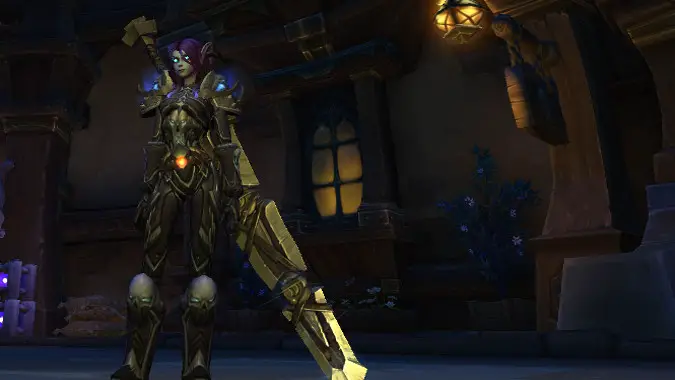 A Void Elf Death Knight is almost as weird as a Lightforged Death Knight. And yet, here we are.
I've been sick as heck since last week so I'm just going to hope I can keep it together until the end of this Queue.
---
KALCHEUS BRONZEBEARD IS INTERESTED IN ALPHA NEWS
No you're checking all the sites every 3 minutes to see if there's any Alpha news
Not since I got in, no.
Relax. If I got in, I'd already have written up a post about it.
---
RED WANTS TO RENAME SPECS
Restoration Shaman would become Ancestral Shaman.
Protection Warriors would become Dreadnaught Warriors.
Frost Death Knights would become Icebound Death Knights.
Holy Paladins would become Illumination Paladins.
I think that pretty much takes care of all the duplicates. If I'm forgetting any, I apologize.
---
EMBERFIREHAIR HELPED ME OUT ON TWITTER
What is your personal favorite quest in WoW?
I am not really good at picking a favorite anything. The other day I was even talking to my wife about that, how people are always picking out their favorite things and I'm always but there are so many things how can you narrow it down like that so I have a very hard time answering this question.
But because I appreciate you asking me a question, I'll say that my favorite quest back in Vanilla days was the one that you got when you killed Kel'Thuzad. Thankfully, you seldom listen to that internal voice of reason.
I like it when the game is self aware.
---
XERIANNE WANTS TO KNOW WHAT GAMES WE ALL LIKE AT THE DARKMOON FAIRE
I like the Merry Go Round.
Yeah, I know it's not a game. It's still my favorite part of the whole Faire.
---
SPENCER MORGAN ASKS ABOUT THE DARK PORTAL AND PREPARATION
Q4tQ: we were not prepared when we entered the Dark Portal, what could we have done differently?
We could have prepared, I suppose.
---
MISTAH JAY WITH THE HARD QUESTION
Q4tQ: You get to change the accent of one WoW race. What race do you change, and what to?
Just one? Yikes. There are SO MANY I would change. Trolls and Tauren are my top 2, but in the case of Tauren it's not even the accent, just some cringy stuff like them saying 'how' and so on. Just not a good look. I guess if I'm pressed I'd say Trolls.
---
SIMONSBRAIN HELPED OUT ON TWITTER WITH A QUESTION
If it's not too late, Q4tQ – Given the explosion in popularity of the hobby, do you think the tabletop WoW role playing game will ever officially return? If you ever played it, how good was it?
I played both the Warcraft Roleplaying Game and its successor, the World of Warcraft Roleplaying Game. Both were solid, with the World of Warcraft Roleplaying Game being more thoroughly grounded in the rules — both were based around the 3rd Edition of Dungeons and Dragons, with the WoW version using the Open Gaming License. If you liked D&D at that time, you'd probably like them both, but I definitely think the World of Warcraft RPG was the superior product.
I think Blizzard should absolutely get a new version of it out, maybe license it to Wizards of the Coast if they don't feel like doing the work themselves. I have no idea if they will, but they absolutely should.
Okay, that's the Queue for Wednesday. I'm gonna go be sick some more.