Come listen to things get weird as the Blizzard Watch crew plays D&D today at 2:30 PM CDT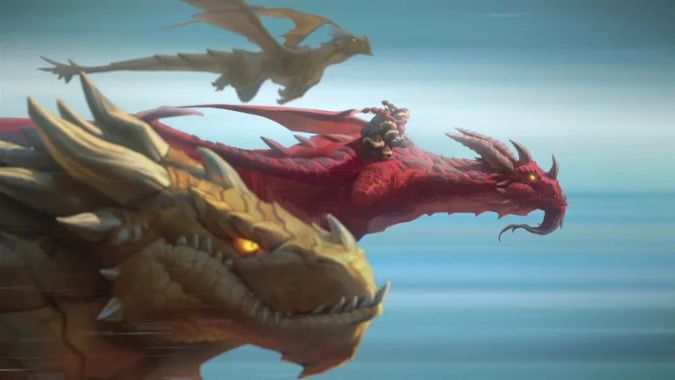 Tomorrow, Saturday, March 14 we'll be hosting our recurring D&D Spectacular starting at 2:30 PM CDT on our Twitch channel. We've been playing through this campaign for a while — we've got an archive of our previous games, so you can listen in to the madness and try and figure out what's going on, exactly.
I feel fairly comfortable predicting that this game will get weird fast, based on our track record so far. We started this campaign inside a volcano base, have since gone from being chased by a dragon made out of lava on a burning sky boat to crashing into a beach, fighting some Kobolds, meeting a weird shape-shifter, and visiting an ancient building that turned out to have a portal to another plane of existence in the basement.
Just last session, the Kenku Bard stole someone's shadow, a Gith tried to feed the party to a red dragon, and now they have a working portal to someplace named Sigil, the City of Doors. Maybe.
If any of this sounds like I'm skipping some things — and I am, because a lot has happened, like the other party of adventurers they ran into — then by all means check out our previous sessions on Soundcloud so you can get a sense of what's going on so far. Going episode by episode, we have:
I feel like the campaign is in an interesting place, and the players are starting to get a sense for what's actually going on in the game. Maybe. Maybe I'm just hoping that as the DM, I'm mostly just trying to hold on for dear life and keep the game moving in some direction. That's all you can really hope for. Players will surprise you every time. And speaking of players surprising us, here they are now.
So yeah, you've got a little under two weeks to get caught up on us and what we're doing, because on Saturday, March 14, we'll be back at our jaunt through the Outer Planes. Will the party ever get home? What will be waiting for them when they get there?
As a final reminder, if you're enjoying our Dungeons & Dragons content, please consider supporting us on Patreon! If we hit our next tier, we'll add another D&D podcast to our regular goings on, in addition to some other perks. Any and all help is appreciated!