Echo is Overwatch's newest playable hero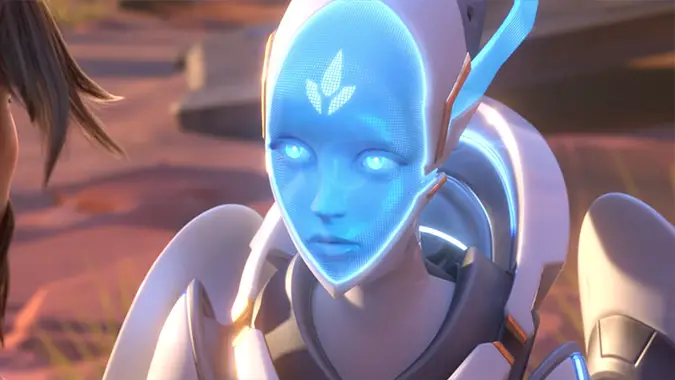 Apparently everyone else saw this coming and I'm the only person left to surprise, but people like me we can all be surprised together as Blizzard announces Overwatch playable hero #32 — it's our friend Echo. We met her in earlier cinematics, like the Reunion short that featured McCree and introduced Ashe, and the Overwatch 2 announcement trailer.
Echo is a character people have wanted for a while. Now you'll finally have a chance to play her, and Blizzard has even released this short that delves into her origin story and lets us know how she came to be.
The origin reveal isn't exactly shocking — Dr. Mina Liao has been in most of the teases earlier this week, and the idea of Echo as a kind of Omnic child of Dr. Liao — literally an "echo" of her — makes sense. I'm pretty excited to get to see and hear more about her as the story progresses, especially since Overwatch 2 is coming soon and it'll contain all the playable heroes we currently have which means we'll see more Echo there.
Since that means we'll get Echo in those Overwatch 2 story missions, I'm hoping we get to see more behind Dr. Liao joining Overwatch, her death, and how Echo ended up a member of the team after Liao died. Also, how'd she end up deactivated? When we see her in Reunion, she's being shipped on a train, and McCree manipulates Ashe and her gang into robbing that train entirely so he can free her. This is a story I'm very much hoping we'll get to hear more about in the future. Also, as pointed out by our own Crow, the idea that Dr. Liao was one of the creators of the Omnics means that this attack that seemingly kills her could be from the Omnics themselves — or from anti-Omnic factions who want revenge. There's a lot going on here.
But yeah, I'm excited — I was one of those people who wanted more Echo as soon as I saw her in Ashe's reveal trailer, so this is really cool. How much of Dr. Liao remains inside Echo? Is this a case of a child, a descendant, a successor, or does she have Dr. Liao's memories? Who is Echo herself, what does she want, and what happened to her? Plus — and most importantly for some players — what can she do? We don't have details on her role yet, much less her powers and abilities. We see her flying a lot in the Overwatch 2 trailer — can she do that?
I'm definitely looking forward to seeing how they translate Echo to a playable hero.