WoW
Apr 10, 2020 1:00 pm CT
There won't be any Warforged, Titanforged, or Corrupted gear in Shadowlands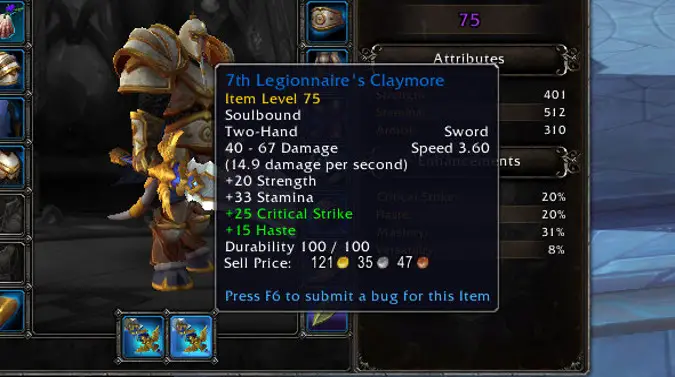 Ion "Watcher" Hazzikostas did an interview with Sloot wherein he talked a lot about Shadowlands (check out the  liveblog from Wowhead if you'd rather read than watch), including the intricacies of loot drops. One of the things they talked about was Warforged/Titanforged gear — specifically, that these types of won't exist. Ion doesn't specifically say there won't be Corrupted gear either, but based on what he does say, I don't think it will be making an appearance in Shadowlands, either.
One of the things Ion mentions is that gear saturation played part of the problem in terms of the proliferation of Titanforged/Warforged style gear. That there was so much varied gear dropping between Mythic+ and Raiding and questing that you could easily be kitted out before you even finished a raid, and so Warforged and Titanforged gear essentially filled the excitement quotient for raid gear. You weren't bored even though you already had gear in every slot, because the chance of a TF or WF drop would keep you interested. That does work, but it doesn't hold its luster — and the devs are aware of that.
The cure this time seems to be to remove TF/WF and to lower the amount of gear dropping, so that people don't get geared up as fast. I'm not sure how I'm going to like that — I remember all too well the days of running UBRS six, eight, twelve, twenty-seven times trying desperately to get the Valor shoulders to drop, for example. With no sign of Master Loot returning — Ion specifically states that they're working instead on improving Personal Loot — there's going to be a different kind of RNG at work here. But while I have overall liked Corruption as a mechanic, between its specific ties to the Old Gods and the whole shift away from systems like TF/WF on gear, I don't expect to see a mechanic like that, either.
I have definitely noticed that the level 50 premades on the Shadowlands alpha are using ilevel 75 gear, which means we've also undergone a pretty significant item squish in addition to the level squish — this could also be a part of reducing gear inflation, something that TF/WF gear really exacerbates. We'll see how it all shakes out as we get further into the alpha, but for now, it seems clear that Titanforging/Warforging gear will be left behind when we go from Battle for Azeroth into Shadowlands.