The Queue: Because I will take literally any excuse to mention Ashkandi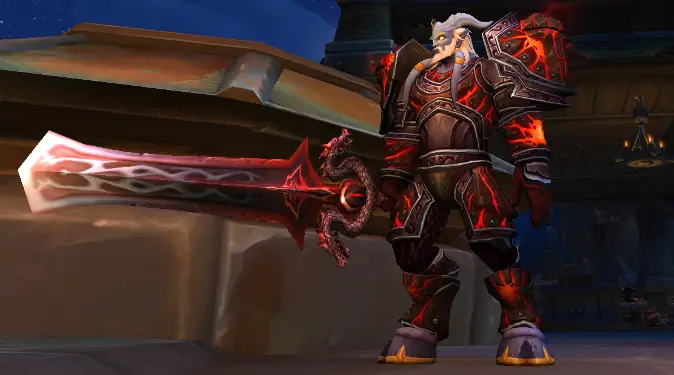 Blame ReclusiveCreation, he asked about good looks to go with Ashkandi and the one in the header is one of my favorites. It's not on a Vulpera but I don't have any Vulpera.
---
ARTHONOS ASKED ABOUT LOADING SCREENS
Q4tQ: Are there any loading screens you'd like to see change up prior to Shadowlands release? Eastern Kingdoms and Kalimdor could both use an update to reflect new current leaders, but if I could only pick one it would be Pandaria. Give us something other than that generic Mogu soldier #2786 to look at while we still have a reason to travel to the place.
I'd add Mogu to every single loading screen in the game.
Anything with Sylvanas on it? Mogu.
Anything with Arthas, or Bolvar? Mogu.
Just so, so many Mogu. I'd put like six Mogu on all the Pandaria ones.
Yes, I'm being silly. But I do like Mogu.
---
ELAINE DE SHALOTT ASKS A LORE AND WARRIOR QUESTION AND I'M SAD IT DOESN'T HAVE A LONG, COMPLICATED ANSWER
Q4theLoreWarriorQ(or is that Warrior Lore?): I seem to recall from a podcast episode that the Warrior Order Hall is one of the few, perhaps the only order hall that changes depending on your faction. Are the differences substantial enough to make it worth doing twice? My gnome warrior is part way through the order hall now, but I do have a Nightborne that should be getting to max in the next month or so with the buff.
No, not really. It comes down to a different follower on the Broken Shore part of the Order Hall Campaign and that's about it — Horde get Eitrigg and Alliance get Darius Crowley.
Honestly, the Warrior Order Hall is pretty sad from a lore perspective. Paladins get all these nods to their class' history and all these figures from the game's lore, Death Knights get the Four Horsemen quests and some of Azeroth's most celebrated dead recruited into the order, Shaman get an incredible questline involving the various Elementals… I mean, Mages, Warlocks, Demon Hunters, Priests, Rogues all get these moments of long beloved NPC's and epic storylines.
Warriors get to be Odyn's Battle Pet. We meet no established lore figures aside from Danath Trollbane and Saurfang (and we actually have to get into a pointless fight with Saurfang to get an Artifact appearance) and spend most of our time recruiting characters like Thorim and Hodir instead of Azeroth's established great Warriors. I liked recruiting Darius/Eitrigg, but come on. It was disappointing.
---
RECLUSIVECREATION TALKS ABOUT TRANSMOG
Here's one option I like. And here's another. There's a fair amount of black and red plate out there and I think black and red gear goes best with Ashkandi, especially if your Vulpera is also black.
You can also try that one up above on my Lightforged. It's just the Heroic Firelands Warrior tier set, with belt and helmet turned off.
---
RED, YOU WORK HERE NOW, YOU CAN LITERALLY JUST ASK ME IN DISCORD
Q4TQ: do you think we'll see some sort of reference to Crusader Bridenbrad in Shadowlands?
Nope.
Man, seriously, I'd love to have more to say here, but honestly, I just don't think we will. He's a memorial character, it would feel weird.
---
SPENCER MORGAN WANTS TO KNOW WHY I HAVEN'T DONE DINOSAUR STUFF IN THE QUEUE IN A WHILE
Q4tQ: Rossi hasn't prefaced the Queue with Dinosaur statistics in some time, what's up with that?
There are multiple reasons. One is that I generally prefer to do that kind of stuff in posts, I've done a few of those. Also, honestly, I've been kind of stressed lately what with the global pandemic and being two months overdue for the eye injections that help preserve my eyesight. (I can't go in because there's a big risk of exposure and I'm high risk of death if I get exposed.) So I haven't really had a dinosaur idea I've felt much like doing lately.
Also, a few of you really don't like it when I do weirder Queues like dinosaur focused ones, and I'm kind of exhausted a lot lately so getting angry comments or whatever isn't something I'm down for.
Okay, that's the Queue. I left that Faceless One question for Mitch, ask him in this Queue's comments so he doesn't miss it.