What's your single favorite World of Warcraft dungeon or raid encounter?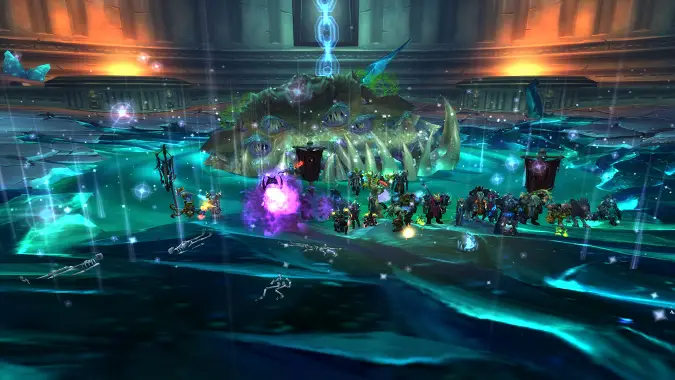 World of Warcraft has over 100 different dungeons and dozens of raids, and each has its own set of bosses. That puts the number of individual encounters in the game at… well, a lot. Several hundred, at least. Despite that many encounters, I'm fairly certain that you can ask almost any WoW player to tell you their favorite encounter and they'll have an answer — if nothing else, they'll at least have a top 5. So that's exactly what I'm here to do today: ask you what your favorite encounter is.
Of course, I know I can't just ask that without providing my own answer. As you may have guessed from the header, my favorite encounter is the Yogg-Saron encounter in Ulduar. That may be what a lot of you answer with, but there are plenty of good reasons for that. Though most bosses in Ulduar provided varying degrees of difficulty that came from more than an interface toggle, Yogg's felt especially tied to the lore of the instance and the bosses you'd already defeated (or rather, freed). Plus, it was a pretty straightforward way to ramp the difficulty!
But the encounter itself was also memorable for the way it provided us scenes of the past — ones that had huge impacts on Warcraft's lore and ones that Yogg also was involved in. On top of all that, it was a challenging, multi-stage encounter that required every single player to be at the top of their game. Words don't really do the encounter justice, to be honest.
Of course, there are other encounters in the game that make it into the "most memorable" category. I loved the way Imperator Mar'gok's encounter used the same baseline abilities but progressively made them more difficult by modifying them in specific ways. The original Drakkisath encounter from vanilla UBRS is one I'll never forget, purely for the sheer madness that was Hunter kiting for the adds. There are certainly more encounters I could talk about, but I think you get the idea.
Now I turn it over to you — what's your favorite encounter in all of WoW? (Okay, fine, a top 5 will also work.)