What Blizzard character's hair style would you adopt?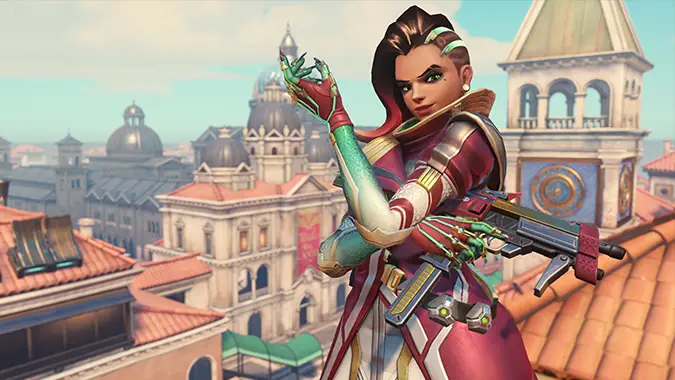 The home haircut has become something of a badge of honor in the current environment. After all, if you're not interacting with anyone, why put forth the effort of making your hair look nice? And going out to get your hair styled has become downright controversial in the COVID-19 world, guys (not to mention the questionable level of personal safety). But what if you could rock your favorite character's 'do?
(An important note: I am not a professional stylist, just a nerd who doesn't mind waiting for her hair to grow back.)
Personally, I've been in love with Sombra's look ever since her introduction at BlizzCon 2016. Her Infiltration short might be my favorite one for Overwatch. I already keep my hair asymmetrical — one side bob length, one side close-cropped — so why not cut the short half a lot shorter? And to be honest, buzzing off a chunk of my hair was kind of fun. That said, I didn't try any of the circuitry patterns she has. I'm brave, but not that skipped yet.
Of course, make sure you have the right tools for the job. Your standard beard-and-mustache trimmer is not likely to be powerful enough to handle the hair on your head (yes, I learned this the hard way), so look for good quality clippers. Are you just interested in trimming the ends or your bangs? A proper pair of barber scissors are going to work way better than whatever you have stashed in the kitchen drawer. What if you want to go a crazy color to match your Night Elf? Get a high-quality bleach and be prepared to do a few passes before actually applying color, especially if your hair is very dark, very long, or both! There are also some super helpful tutorials out on YouTube from the very professionals you should be getting suggestions from rather than listening to a video game writer on the internet.
So tell me: Would you adopt Lady Liadrin's side-swept bangs, Zarya's punky pink with buzzed sides, Leah's shaggy bob, or something else entirely? And remember, if you're nervous about tweaking your hair, we're going to get a whole bunch of character customization options in Shadowlands! The virtual barbershop does not have lines or viruses!