WoW
Jul 8, 2020 2:16 pm CT
Take a trip to the Theater of Pain, a non-linear max level dungeon in Shadowlands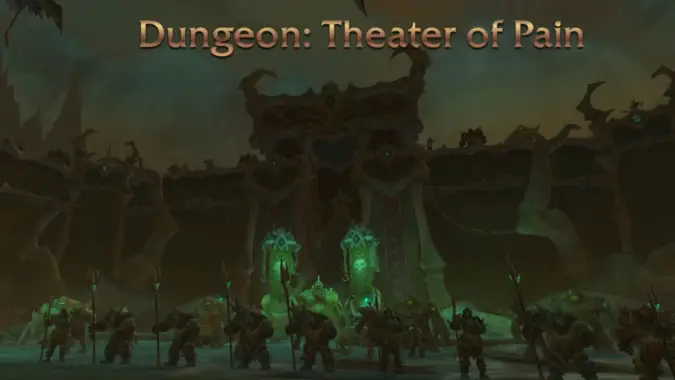 Are you not entertained?
You're not? Oh, well you will be when you take a trip to the last dungeon arriving in Shadowlands — the Theater of Pain. We just got our first official overview of this end-level dungeon in the Shadowlands Developer Update from Ion Hazzikostas and it sounds like it's going to be a dungeon where you choose your own path.
You'll start off beneath the great gladiator arena in the center of Maldraxxus, where you can choose which order you fight the bosses as you fight your way through the different staging areas in the catacombs beneath the coliseum. When you've proven that no one under the arena can stop you, step out onto the bloody sands and prove that you're the strongest force in all of Maldraxxus. The dungeon also promises to look very "metal" with all of the bone and spikes architecture that we've seen from the Necrolords so far.
I love a great non-linear dungeon. The Junkyard section of Operation: Mechagon is my favorite area because you have so much choice in how you want to handle each run. If you know that you've got some amazing single target damage with you and don't need Bloodlust on the ooze boss Gunker you can choose to head straight for one of the other bosses first. Waycrest Manor and Atal'dazar were the same way.
What I really hope that we see from the Theater of Pain is a variable difficulty as we tackle the bosses. Give us a way to make the last boss harder if we fight the first four in a certain order for extra rewards or achievements. I would also love to see a system in place like the different class and profession buffs that we had in the Court of Stars dungeon from Legion. Let a player with max level Shadowlands blacksmithing sharpen some practice weapons and arm prisoners to help clear a trash pack out of the way. Or a player who has the Duelist Nadja as their Soulbind summon her to duel against a particularly large elite, leaving them wounded to make them an easier encounter for your group.
We won't have long to wait to find out though. Theater of Pain will be available for testing when the Shadowlands beta starts next week. Until then if you're really looking to satisfy your gladiatorial combat urges you could always watch Spartacus.