WoW
Jul 8, 2020 1:42 pm CT
Your Covenant Sanctum in Shadowlands will let you customize your zone, run missions, host parties, and even farm souls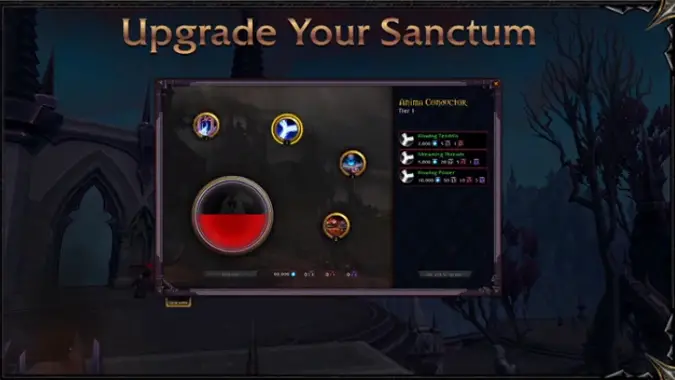 The Shadowlands beta is starting next week, and it will give us our first look at the complete Covenant system, including the new Sanctums feature. Each faction has a Sanctum — similar to our Warlords Garrisons or Legion Class Halls — that you'll upgrade as you progress through the game. Ion Hazzikostas described it as "a base of operations" for your Covenant, and you'll be spending a lot of time there.
All Sanctums share some key features:
A transportation network. Each Sanctum is located in the Covenant's zone — the Night Fae Sanctum is in Ardenweald, the Venthyr Sanctum is in Revendreth, the Kyrian Sanctum is in Bastion, and the Necrolord Sanctum dominates Maldraxxus — and while you're in those zones, you'll have access to a Covenant-only fast travel system. Each will be themed to your covenant: Ion mentioned series of roots would help Night Fae travel throughout Ardenweald, while the Venthyr use blood mirrors to get around Revendreth.
Zone upgrade and customization options. Each Sanctum will also have an Anima Conductor, which lets you direct the flow of anima throughout the zone. This lets you regrow areas, decide what kind of structures exist, and what kind of quests are unlocked — temporarily and, eventually, permanently — as you progress. The Anima Conductor essentially introduces a kind of customization to the entire zone itself, rooted in the Sanctum. By restoring the flow of Anima, you essentially regrow the zone after the chaos of the Anima drought.
A mission table. The final feature that each Covenant will possess is the Scouting Map, which takes the mission table concept from Warlords of Draenor and updates it to be less like a hit or miss, succeed or fail game and more like playing an actual turn-based RPG inside WoW itself. You level up your Soulbinds, recruit champions, and use custom troops to engage in missions and, for lack of a better word, play a mini-game version of WoW inside WoW itself, or through the mobile app. I'm really interested to see if I end up loving this. It feels like it could end up as an in-game equivalent of games like Raid, and I'm not sure I'm down for that.
But Sanctums are more than a place to set your hearthstone and click on missions: they their own unique gameplay features that should make playing each Covenant feel different. Each Sanctum also has a feature that's unique to the faction in question:
Venthyr: The Ember Court, which is a kind of party zone where Venthyr players will play a minigame based in politics and social interaction that is you throwing a ridiculously over the top gothic party.
Kyrian: Path of Ascension, where you essentially play as one of your own Soulbinds, taking that Soulbind character into the Soul Mirror to engage in combat not dissimilar to the Brawler's Guild, except with souls.
Necrolords: Abomination Factory, which is essentially a monster mashup letting you build horrible undead monstrosities and jam the souls that need bodies into these creatures.
Night Fae: Queen's Conservatory, which is designed around Ardenweald's mission to return souls to mortal existence in a method that makes it similar in gameplay to Pandaria's farm, albeit a farm where you gather anima and protect and nurture it until it is ready to return to the world.
You can watch Ion describe these various systems on World of Warcraft's YouTube channel, and you'll get a chance to go hand's on with them next week.