WoW
Jul 9, 2020 12:28 pm CT
The spark-breathing Steamscale Incinerator mount is the new hotness, literally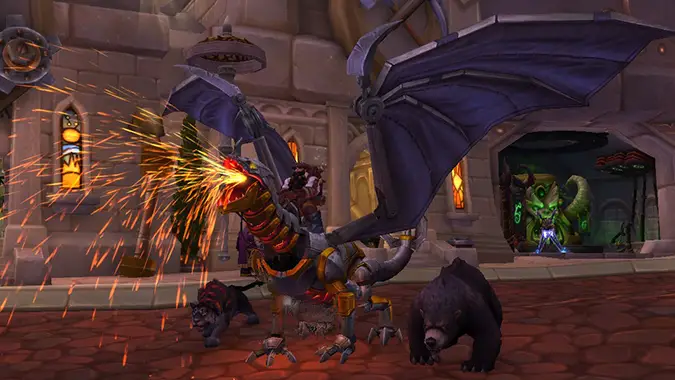 In the swirling chaos of the WoW Shadowlands news cycle this week, Blizzard also dropped a hefty mount on us. The Steamscale Incinerator mount is a large metal dragon that breathes sparks and was built by gnomes.
This dragon is big and it could potentially explode at any moment, but it looks pretty sick and it'll only be available until August 10. You can purchase it over on the Blizzard shop for $25, or buy a six-month subscription to the game for $77.94 and receive it as a bonus. If you're already on a six-month subscription with a renewal date, you'll receive it by July 20.
Like other mounts, it's account-wide and auto-upgrades based on your fastest riding skill. Unlike other mounts, it apparently contains the soul of a demon inside of it in order to accurately recreate "an authentic dragon soul." I thought you needed 10 or 25 players to do that, but gnomes are much better at crafting things than I am. If that means the /mountspecial command gives us a spark-filled roar, then I'll accept whatever this dubious contraption is. This dragon is its own fireworks show– especially when none of us can go outside and see an actual fireworks show.
It does make you think about the potential utility here. Forget vendors on mounts; let mounts light things on fire. Players with Cooking could get a lot of use out of it and Engineers could easily find ways to harm themselves with it. Your move, Shadowlands. Everyone is dead up there anyway. A few sparks and a gigantic metal dragon that could turn into a flying M-80 at anytime is safe enough. The Jailer has almost certainly seen worse.
Although the mount isn't any more expensive than previous ones, it's nice of Blizzard to keep it around for several months as people hopefully financially stabilize. For those of us who can afford it: you're probably sitting around waiting for Shadowlands news anyway. You might as well do it on this thing.