Paizo puts up Pathfinder 2 Humble Bundle to support Black Lives Matter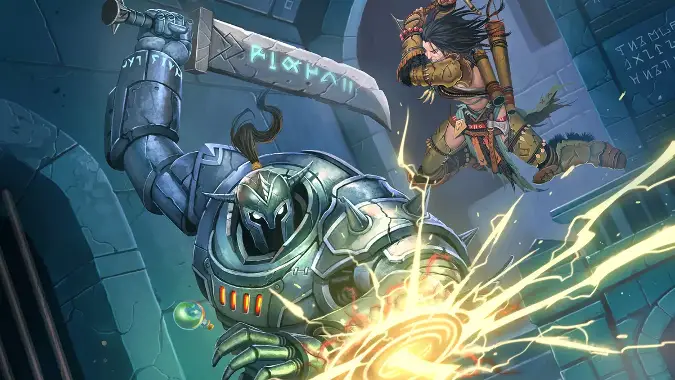 Pathfinder 2nd Edition is the flagship line for Paizo, one of the larger RPG companies that isn't Wizards of the Coast. We've covered the origins of Pathfinder before, as well as Pathfinder 2nd Edition in terms of a review, so despite the fact that it has the same name as a controversial World of Warcraft achievement that gates in-game flying, I hope you are all familiar with the game. If you've been on the fence about picking up the game's second edition, and you're thinking it would be nice to have a bunch of the releases in PDF form, now you can.
Better yet, you're not just getting the Pathfinder 2nd Edition rules, but you can pay more to unlock other core books the Bestiary which we've also reviewed before and which is excellent, the Lost Omens World Guide, as well as a lot of adventures to run. Whatever level you choose, you'll be helping to support the Carl Brandon Society, the NAACP Legal Defense and Educational Fund, Inc., and the National Urban League, as a portion of the sale goes to them. Pledging $20 USD to get all the books included in this bundle would be amazing even if it wasn't also for a cause we sorely need, considering the state of the world nowadays.
Plus, if you pay $30 USD, you can also get the hardcover Pathfinder 2nd Edition rulebook, although you will also then have to pay shipping. Considering you'll have already gotten the core book, the Bestiary, the Lost Omens World Guide, and several fiction books plus a series of adventures for $20 USD, it's hardly necessary to pick up the rulebook in print format. But if you like paper books it's a pretty solid deal as the 2nd Edition core rulebook costs ten dollars more on Amazon, and doesn't come with all these extra books in PDF format.
I personally think it's an excellent deal. I already own the hardcover, but I'm looking at my penny jar right now. The bundle expires on August 4, so if you're short on cash now, you have a month if this sounds interesting to you, or you just want to help out some deserving groups that help deal with the injustice that's so endemic in our society. This is the second Humble Bundle that Paizo has done in recent years to benefit charitable causes, and since you may have missed their last one, you still have a chance to catch this one.