WoW
Sep 1, 2020 6:00 pm CT
Get ready to snag a rare 34-slot bag in the Shadowlands pre-patch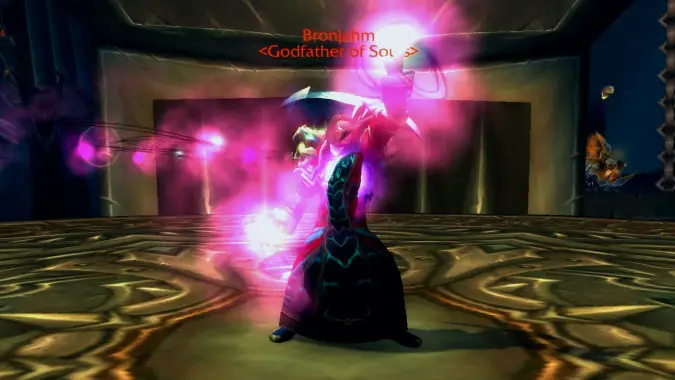 The Shadowlands pre-patch is nearly upon us, and it still has a few surprises in store. A large part of the pre-expansion event will be happening in Icecrown, and after you finish the initial questing experience there will be daily quests, as well as, in one of my favorite WoW traditions, a set of rare mobs to kill.
These rares feature several familiar faces from the Wrath of the Lich King days, including many dungeon and raid bosses we defeated, from Patchwerk to The Black Knight to Lady Deathwhisper. Also among them is Bronjham, the Godfather of Souls — a reference to the Godfather of Soul, James Brown, and one of the bosses of the Forge of Souls instance. The original version of Bronjham was known for dropping two bags — Papa's New Bag and Papa's Brand New Bag, which were a 20 and a 22-slot bags, respectively. And trust me, those were respectable bag size at the time: players flocked to that boss in hopes of earning them.
Well, those days might be returning — at least for the month or so for the Shadowlands pre-patch — because papa's got a brand new bag! The new Bronjham rare has a chance of dropping Papa's Mint Condition Bag, this game's second ever 34-slot bag. The only other 34-slot bag available so far had been the Madman's Luggage, for a whopping five hundred thousand gold, so getting this as a drop is a real savings.
That makes it extremely valuable, and I expect many players to relentlessly camp the Godfather of Souls in his new spawn spot near Sindragosa's Fall, just south of the Argent Tournament Grounds. You'll know if he's there by the helpful purple skull icon on your map. If you miss the kill, he should respawn within 20 minutes, so you won't have too much time to wait for your next chance.
A final note, and quite an important one: This is a unique bag, so you can only earn one per character. When you get a drop, you can happily stop farming for good. Thank you, Blizzard, for looking out for our sanity!