How to get to Orgrimmar or Stormwind from the Shadowlands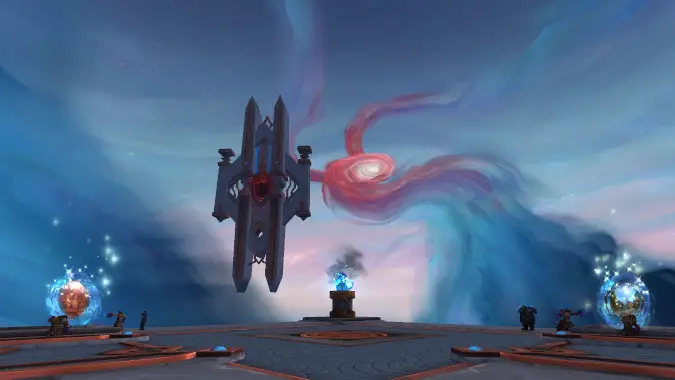 One of the most pressing pieces of business you'll have when you arrive in Shadowlands is finding a way back. The portal to your faction's capital city is created specially for you early on in your questing, but Oribos is really easy to get turned around in, so it can be helpful to have a rule of thumb to guide you back home.
Shortly after your initial arrival in Oribos, you will be given a quest to speak with an acolyte of Bolvar's Death Knights. That acolyte is particularly skilled in portal magic, and will open one for you to go directly to Orgrimmar or Stormwind, depending on your allegiance. As shown in the header image, you'll see the opposite faction's portal on the other side of the same platform, making it easy to remember the location for bi-factional altoholics.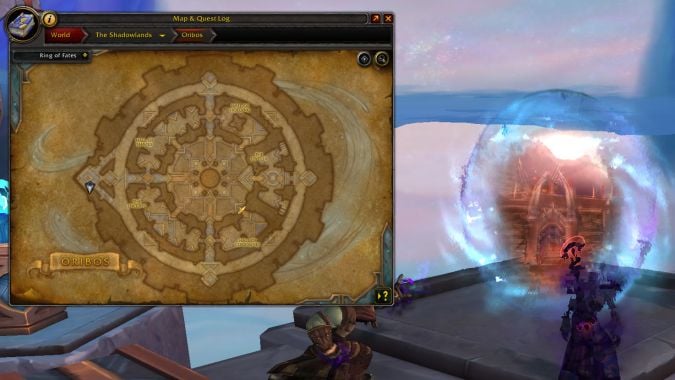 From then on, when you fly into Oribos from elsewhere, you'll be on the second floor of the city. If you use the nearest teleportation pad — ahead and a little to the left from where you land — you'll be on the south side of the inner circle. Luckily, the entrances and exits that cut across the circular city correspond directly to compass points, so we don't have to think in terms of "maybe southish, but slightly west this time." As such, the teleportation pad is on the westernmost point of the very outer ring on the lower level.
I would highly recommend cutting through the center of the city instead of walking all the way around the circle, but you may want to cut through and talk to Bolvar, who's hanging out in the middle ring. The middle ring will dismount you, though — I recommend avoiding it unless you need to go through for something specific.
Oh, and be careful when going to the platform, unless you run straight there. While it's very tempting to jump over the gap, it's kind of a long drop if you miss. Death isn't forever in the Shadowlands anymore, but it can still take you by surprise.