Community Calendar: Running of the Gnomes, Friendship Dragon, and more events in your favorite games this weekend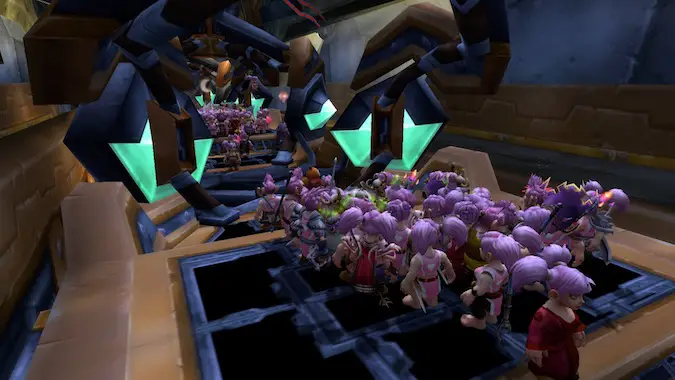 Are you ready for the weekend? We're ready for the weekend. And if you're looking for something to do over the weekend (and the next week), we have a rundown for you.
Running of the Gnomes (retail)
Saturday, October 10 at 7pm ET
The 2020 Running of the Gnomes is this weekend, and this year there are two runs: one for retail servers and one for Classic servers. Both events raise money for breast cancer research, and you can support the cause by donating to the Cleveland Clinic. This Saturday's run is on the Scarlet Crusade (NA) retail server, where you can join a massive group of Gnomes as they run from Gnomeregon to Booty Bay. Get all the details on the event here.
If you're more interested in Classic, that run will be next weekend.
Perky Pugs #FriendshipDragon runs
Saturday, October 10, 12 – 6pm ET
The fine folks at Perky Pugs are continuing to help people grab Ahead of the Curve in Ny'alotha to get the soon-to-be-gone Uncorrupted Voidwing mount. They'll be doing runs for Alliance and Horde NA all afternoon on Saturday, so you can try to grab a dragon before joining the Running of the Gnomes. Check their website and join their Discord for more info.
WoW patch 9.0.1 (NA)
Tuesday, October 13
The pre-patch is finally here! Be ready to mourn the loss of 70 levels (and 70 levels worth of stats) when the servers go online Tuesday. As usual, the EU patch will launch the following day.
Be sure to update your addons and get any pre-patch goals done in advance.
Hearthstone Book of Heroes Rexxar single-player adventure
Tuesday, October 13
Hearthstone is launching a new single-player adventure every month for the foreseeable future, each focusing on one of the game's iconic heroes. They have some fun storytelling and are completely free if you want to give them a try. The Jaina adventure is already available if you can't wait that long for new Hearthstone excitement.
What else is coming up?
October means we're getting all the Halloween events. Though we don't have a date for Overwatch's annual Halloween Terror event, it could show up as early as next week. Hearthstone is also hosting its Masquerade Ball through the 21st, with themed Brawls and lots of card packs up for grabs. Hallow's End comes to WoW a little later, kicking off next Sunday, so get ready for your annual trick-or-treating run!
And if Diablo is more your thing, we're closing in on the end of the Season. We don't have a date for it yet, but we're guessing it will wrap up on October 25.
And that's all for this week, folks. Know of an in-game event we should feature? Send us a note and we'll add it to the list!