The Queue: Are we lost?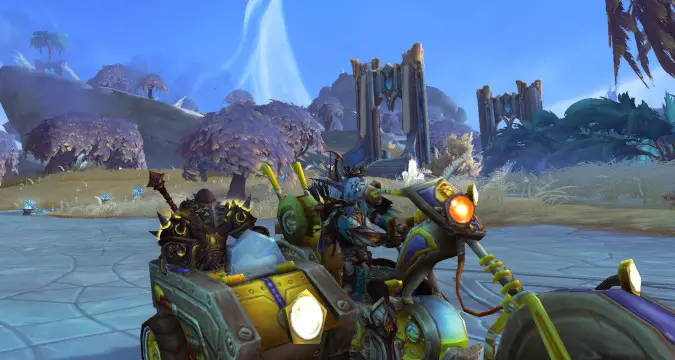 So yeah, my wife and I finally got to run around in Bastion and even got some Maldraxxus in last night, and we're both level 55 heading towards the final stretch. Leveling definitely feels less painful this time around, which I think is an excellent thing — I expect when I get to my alts, I might just level them through the questing again, it's been fun.
Some actual lines from our time playing together include "She's awfully proud of her job as Death's mall cop" and "Who would ever want to come here? No one. No one wants to come here, but we're stuck here so we might as well make the best of the blasted, undead choked hellscape."
---
STEWART TOLHURST, TO ME YOUR NAME SOUNDS LIKE THE HERO IN A STEAMPUNK TIME TRAVEL STORY, WHO IS A GENIUS COOKIE BAKER
I'm finding a distinct lack of convenient rest zones during levelling. It's almost like Blizzard are expecting people to do 50-60 in one session…
Yeah, we were commenting on that ourselves — we actually hearthed back to Oribos to get rested again because we didn't want to end up doing Maldraxxus without any rested. We got the flight point so we can just fly back as needed, but it was kind of annoying. There are a couple in Bastion that I can think of, but we didn't get to one in Maldraxxus as yet.
Considering some people were level 60 within three hours of the expansion dropping, maybe Blizzard wasn't wrong to leave them out.
---
GALDWYNN, YOU WOULD HAVE TO BE THE NORWEGIAN RAIDER HE MEETS AND WINS TO HIS CAUSE WITH A DELICIOUS PLATE OF COOKIES
Choosing a covenant feels like such a huge decision. Do you choose based on aesthetics, output, character RP?
Honestly for me it's RP all the way. None of my characters feel good about Bastion — I kept saying "Should I be looking at the black angels who are allied with the forces of Azeroth's version of Hell and saying you know, they've got a point about being forced to lose their memories and everything that made them who they once were because I really don't feel like I should be looking at the Mawsworn and going huh, that guy killing all my friends has a point."
So not really sure if any of my characters will go with Bastion. Right now, my Human might actually go Maldraxxus — the scrappy nature of the Covenant appeals to him, although he could do with a lot less skulls and bone tornadoes. Ardenweald is my Night Elf's destination for absolute sure, but my Dwarf, Lightforged Draenei, and Draenei are all up in the air about all this. My Dwarf Pally was going to go Bastion but now I'm not sure because of how creepy they are, and my Void Elf DK kind of thinks they're all awful.
---
SOEROAH, YOU'LL BE THE TIMESHIP PILOT FROM ANCIENT EGYPT WHO HELPED BUILD IT IN THE SHAPE OF THE SOLAR BARQUE
I feel slow compared to everyone else, I've been playing like 2.5 hours and I'm still in Bastion
If anything, I hope my talking about how I just reached level 55 will help folks feel better about their own speed and not get too hung up on how fast other people are leveling.
I mean, seriously, we're going to be in Shadowlands until 2022. There's no reason to rush yourself here. If you want to level fast, sure, by all means, but if you're enjoying the ride I feel like you should just let yourself.
---
SPENCER MORGAN, YOU DON'T GET TO GO ON THE TIME TRAVEL ADVENTURE BECAUSE YOU DIDN'T READ MY HEADER ABOUT HOW I WAS DOING THE QUEUE THURSDAY AND FRIDAY
Q4tMitch: will Sylvanas succeed in her plan to eat the Shadowlands?
Mitch says no, because Sylvanas is a big doody head and he hopes she gets captured and forced to live with Anduin who converts her to the Holy Light because the Holy Light is so great, also, he's speccing Holy and the Old Gods are dumb.
He totally said all that.
---
KALCHEUS, YOU WORK HERE, JUST ASK IN DISCORD
Isn't Cory in Canada too?
So is Matt Low, but I'm the one who volunteered.
---
JALAMENOS, YOU'RE GOING TO HAVE TO BE THE RIVAL BAKER WHO MAKES EVERYTHING SPICY AND ALSO WANTS TO USE PREHISTORIC ANIMALS IN YOUR FOOD, SO YOU MUST BE STOPPED
True story, I wrote a series of short stories on Usenet back in the day with a character named Kyrian in them.
---
SERIOUSLY, KALCHEUS, JUST WHISPER ME OR SOMETHING
Q4tQ: Hi Matt! Have you found Amber Kearnen yet?
I have not, as I just barely got out of Bastion and still have three zones to go, plus I wasn't looking for her because I refuse to believe she's dead.
I wanted to include a lot of questions that I ended up not answering, like Mistah Jay's spoilery question, but it's early days and I wanted to hold off on anything spoilery for now. But we'll get there in time, I'm sure we'll get some spoilers doled out on this week's LoreWatch.
Anyway, I'll be back tomorrow, so if you have a question that's not super spoilery, please feel free to ask. Otherwise I'll just have to write more adventures of Stewart and his timeship crew.