WoW
Dec 14, 2020 7:00 pm CT
The Race to World First Castle Nathria starts tomorrow!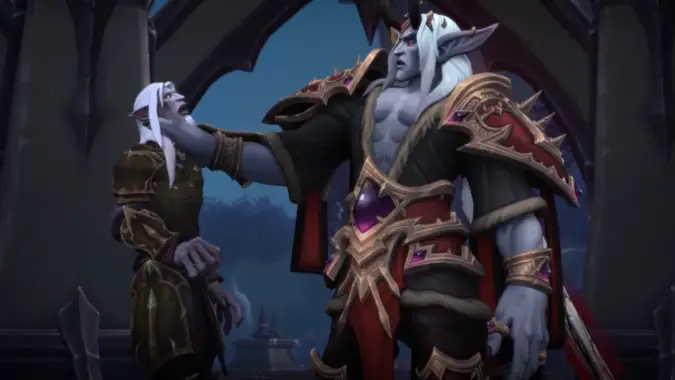 It's the most wonderful time of the year! The first Shadowlands World First Mythic race is about to kick off this Tuesday — that's tomorrow! Did you think I meant Christmas?  These raiders won't have time for Christmas. Not with all of the bragging rights and piles of shiny loot on the line!
The guilds have been hard at work this week in the Heroic difficulty of Castle Nathria and running Mythic Keystones to try to get as much loot as possible for this week's Mythic race. What they've learned is that Denathrius is tough. He managed to last two days before falling to Complexity-Limit — a surprisingly long time for a Heroic tier to last. Most of them are "blink and you miss it."
This could be a sign that we're in for a longer race. There's been less loot to go around with bosses dropping fewer pieces of gear with each kill. The fast raid start also means that there hasn't been as much chance to build power from Soulbinds and head into Torghast for Soul Ash. Guilds will have to make a choice as servers come back up to go for quick victories on the early bosses in Nathria or take the time to run Torghast a few times for stronger legendaries.
Last race we saw Complexity-Limit win the whole thing, with a big focus on running with a "21st raider" and having their raid leader stay outside of the raid and focus on shot-calling so that the rest of the players would be able to focus on fight mechanics. It'll be interesting to see how many of the other top guilds wind up doing something similar this time. Many of these guilds are also promising that we'll be able to get real-time communications from their players. In case you ever wanted to hear for yourself just what everything before the excited screams of victory sounded like.
Let's take a look at some of the biggest players in the Race for Castle Nathria.
Announcing the Complexity Limit Race to World First, Castle Nathria edition!

6 of our players will be socially distant raiding from @TheGSPC while everyone else raids from home.

For more info, visit: https://t.co/wWmkhF5CoA#WeAreCOL | #LimitRWF pic.twitter.com/n3ru4B0LLQ

— COMPLEXITY-LIMIT (@LimitGuild) December 7, 2020
Complexity-Limit
Complexity-Limit is going to be doing the biggest event, with a full set of casters and 18 hours of raiding each day being streamed. They've also made a deal with Chinese company Douyo to localize the streams for a Chinese audience, ensuring that they'll be some of the most-watched raiders in Warcraft's history. They're also the only guild that I've seen that is still having any sort of in-person event, with six of their players playing from a quarantine bubble at the GameStop Performance center in Texas. They're the returning champs and they've got a lot to prove this time out.
It's Time!!!!!

Race to World First kicks off December 16th!

Stay tuned for more announcements! Also, follow us on here and on Twitch for all the latest Race to World First Updates!https://t.co/bfB9UVfbXM#HearOurEcho#Warcraft#Shadowlands pic.twitter.com/3hXo5IBfR3

— Echo (@EchoGuild) December 8, 2020
Echo
Echo is the guild that was made up of players who left Method over the summer. They're ready to jump out of the gate with their own stream team of casters to bring you attempt-by-attempt commentary and banter. They've got a lot to prove here, as they do what they can to set themselves apart from the shadow of Method and show that they have what it takes to be the best in the world.
On 12.16.2020, we enter Castle Nathria. Sire Denathrius will fall, but who will take the first kill?

Join us in our journey to claim the world first title – as we invite you into our guild story and our voice comms for the first time!#PiecesTogether🧩 #PiecesRWF pic.twitter.com/UV77KSKIgE

— Pieces (@PiecesGuild) December 8, 2020
Pieces
Pieces took third place in Ny'alotha and were the first guild in the world to down Uu'nat in the Crucible of Storms. So they've definitely got the skills necessary to take the top spot. They're one of the guilds who will be giving us the inside look into their communications in real-time as they ascend Castle Nathria.
Announcing – 'Scuffed' Race to World First #Shadowlands

✅Professionally Scuffed Stream
✅Comms
✅Small & Cosy
✅Full RWF Coverage @ https://t.co/iAufY9GBnE with LIVE stream updates
❌Breaks every 5m

🔴https://t.co/7HcUGT52bx#methodway pic.twitter.com/PAZTpUswQW

— Method (@Method) December 9, 2020
Method
Method will also be streaming and racing, but they're promising a much smaller event. This will be the first outing for the newly rebuilt guild and organization. They're aiming for a top-10 spot, but they face stiff competition from the other longer-established guilds. Competing against guilds that have played together for years is never an easy thing.
BDGG RACE TO WORLD FIRST EVENT #Shadowlands

⭐Live coverage, multiple player PoVs, full comms!
⭐A BUTTLOAD of your favourite WoW casters & personalities!
⭐Interviews, skits, guides, content galore!

🔴https://t.co/EcpNuGqV9b <- FOLLOW NOW

December 15th – 7am PST / 4pm CET pic.twitter.com/tUmVeQeHtW

— BDGG (@bigdumbgaming) November 22, 2020
Big Dumb Golden Guardians
Big Dumb Golden Guardians (formerly Big Dumb Guild) were the second US guild to clear Ny'alotha but hadn't cracked into the top 10 for the world. Castle Nathria might be their time to shine.
Who will you be watching?
We're spoiled for choices this race. There are more and more guilds streaming each new raid tier, and the production quality keeps on going up and up. I'm sure that Castle Nathria will prove to be an even more exciting race than Ny'alotha. With how even everyone is going into the Castle it'll really come down to who are the most qualified players.
Will Complexity-Limit hang on to their crown? Or are we going to see a surprise victory from Pieces or Echo? Will Sire Denathrius manage to hang on until Christmas — or will he barely last a week? We'll find out soon!