We're finally getting our first real look at Diablo Immortal — and more information about its microtransactions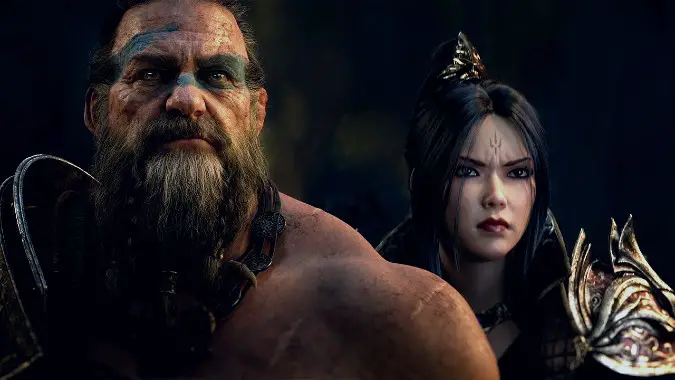 We finally know when Diablo Immortal will get any sort of public test: the answer is "now, if you live in Australia." The announcement of a technical alpha test says invites to Australian players who pre-registered on the Google Play Store have started going out, and there are already streamers showing off gameplay. Four classes will be playable in the alpha, with Barbarians, Demon Hunters, Monks, and Wizards available in the initial round of testing. You can check out streamers nl_Kripp, Bluddshed, MrLlamaSC, Lord_Fluffy, svr_90, and EchoThruMeGaming to see Diablo Immortal gameplay.
If, like me, you don't live in Australia, you may be feeling slightly bummed that you don't get to play yourself.
To take your mind off of that, you can head over to the official site, which is now chockablock with new information about Diablo Immortal, which I've personally been dying to hear anything new about for so long now that I sort of blacked out when this was announced. One of the most interesting things that we've got to look at is this post about the game's free-to-play nature, which the Diablo Immortal team promises isn't pay-to-win.
The entire game, the story, the classes, and all future updates will be free. There also won't be an energy system that limits your playtime unless you pay, which is a common feature in may free-to-play games. Diablo Immortal does have in-app purchases, but they're all optional add-ons. You won't be able to get a powerful character just by spending enough money. The only way to get gear is to play the game — all Legendary gear is self-found, and cannot be traded or bought with real money.
So what will you be able to buy? The team listed three examples:
Crests, which modify Rifts in random ways. This may make the Rift harder or easier, but either way you'll get more rewards. You can earn these in-game or buy them with real money.
Reforging Stones that let you reroll stats on an item will be earnable in-game, and Specialized Reforging Stones, which let you specify the stats you want, will be purchasable.
A Battle Pass progression system, which will have a track of free rewards and a track of paid rewards.
There's also a player market where players can buy and sell items for in-game currency. It won't have a cash-out option, and we're reassured that it won't be akin to the Real-Money Auction House that so bedeviled Diablo 3 on launch. Only certain items will be tradeable, like crafting materials and gems — there won't be any gear or direct power-ups. There are three currencies in Diablo Immortal, which work with its free-to-play system: 
Gold, which you earn through gameplay.
Platinum, which you can earn through gameplay or buy with cash. You can spend Platinum on items in the Market.
Eternal Orbs, which can only be bought with cash. You can use Orbs to buy Platinum or items like a Specialized Reforge Stone.
I'm curious how this is all going to feel in actual play. Blizzard's recent roll-out of a Battle Pass system in Hearthstone has been widely panned for reducing the game's free rewards, which doesn't engender a lot of trust in another Battle Pass system. Will it feel like you have to buy Specialized Reforge Stones and Crests to get ahead in the game?
But it feels like the Immortal team understands how bad it can feel to play a game that drives everyone to drop cash to progress, but until the game is in widespread testing and we get to see how the paid options feel in play, we're just hoping it'll be good. But at the very least, we now know people are playing the game right now in the alpha, so we're one step closer to a release.