WoW
Dec 21, 2020 10:00 am CT
Race to World First: We've reached the top of Castle Nathria
It's been a long tough weekend for the guilds in the Race to World First. The last time we checked in with them — the top guilds were ramming their faces into the brick wall of Sludgefist, with Complexity-Limit, Echo, and Pieces all doing their best to bring the huge numbers necessary to beat the fight. Now after a weekend of thousands and thousands of deaths and millions of gold spent on repairs and potions — we've reached Sire Denathrius.
Here are the top five guilds in the world at the time of writing.
Sludgefist holds the door
I've started calling him Hodor because of how well he's been holding the door to the last pair of bosses. Sludgefist requires a high amount of precision while bringing some meter crushing damage numbers in order to get past. His big changes in Mythic difficulty from his more sedate Normal and Heroic modes are that instead of chaining together a portion of your raid, he'll chain together your entire raid. Everyone in there will get a partner and have to stay within ten yards of that partner or they'll die. He'll also yank players towards him, and each time he runs into one of the four pillars in the room he'll spawn extra debris that needs to be stood in, or you'll take catastrophic damage. Once all four pillars are gone, the next charge sees him hit a wall and pulse out room rattling damage — four pulses is usually enough to wipe your group.
With proper damage reduction cooldowns, Complexity-Limit was extending that to six or seven pulses and still coming up short. They wound up having multiple 0.9% wipes before finally killing him on Friday after 167 pulls. Echo followed pretty closely behind that same day, downing him after only 127 pulls, while Pieces got him after a whopping 270!
There are currently 19 guilds who are working on Sludgefist. It really could be any one of them who manages to fling that door wide open and join Echo and Pieces on the roof to face the Generals.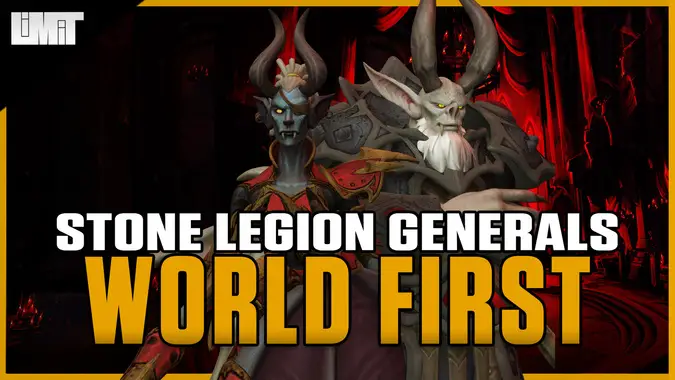 The Stone Legion Generals and the legion of gargoyles
With Sludgefist in their rear-view mirror, Complexity-Limit and Echo have been facing off against the leaders of Sire Denathrius' gargoyle army. The Generals aren't playing around though — they have a ton of mechanics for guilds to deal with, while also a tight damage check. On top of those things, there's the possibility that the Generals will just yeet your raid off of their balcony.
Complexity-Limit got to them first and quickly proved why it's not always best to be the first ones to work on a boss. The initial damage check was tuned really high, and Blizzard released a hotfix to bring the health of some shields down — shields that if not broken would wipe your raid. With those extra forces easier to deal with, Complexity-Limit started to make the most out of their head start, putting pull after pull after pull into them. Sunday night they finally got them, on their last pull of the night no less — just ten seconds shy of the enrage timer!  All told, it was 292 wipes before the Generals were ground to dust. More pulls even than Mythic N'zoth took in Ny'alotha.
Echo was right behind them though, consistently reaching the final phase of the fight with numerous wipes below 25% remaining on the Generals, with a kill coming in the early hours to tie things up.
Onward to Denathrius
Complexity-Limit has started their work on Sire Denathrius, but looking at how much effort it took them to get the Stone Legion Generals and Sludgefist, they're going to have to play like they've never played before. Echo is gunning hard to take the number one slot, and we've seen that they routinely take less pulls to get their kills than Complexity-Limit. If they're smart about how they approach the strategy for Denathrius they could be taking the crown for this first tier of Shadowlands.
There are rumors of some sort of Mythic only phase so I can't wait to see if they're true!