WoW
Dec 23, 2020 10:00 am CT
Race to World First: Denathrius lives, for now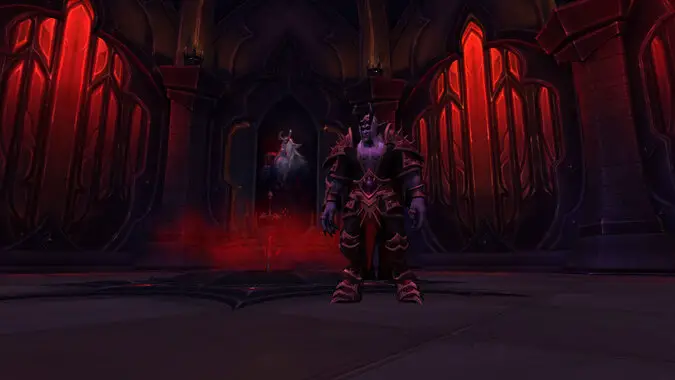 It's been eight days since Castle Nathria opened and the lord of the Castle still reigns supreme. Sire Denathrius has managed to hold off both Echo and Complexity-Limit's best attempts to dethrone him. But his days are certainly numbered. Will he last a ninth day? Or will he go down before Christmas and let these raiders have a well-deserved rest?
Before we jump into looking at the Denathrius fight, here are your top five guilds at the time of writing:
Sire Denathrius shatters the borders between worlds
Looking at other some of the other bosses that cap off raids, you could describe them as a marathon. They had long, drawn-out fights that were as much a test of endurance as they were bringing the biggest damage dealers you could. Sire Denathrius feels more like a sprint. His first two phases are over in almost a blink of an eye. Players first have to absolve some of their past sins and humble themselves before Denathrius, before he drops them through the floor. There they have to contend with some of his top advisors, and his flying sword Remornia. As the raid gets him to half health, he ceases holding back and they have a mad-dash to take him apart before he completely covers the floor in caustic Anima. All while having to deal with some mirror realm shenanigans from him.
For the final phase, half of the raid is split into a shadow realm that is mirrored on top of the regular phase. As players in the regular realm are dealing with abilities that knock you away from Denathrius, mirrored players are getting drawn in. A debuff on a Mirror player will leave an orb that needs to be soaked for a real-world player, and vice versa. Oh, and if any of the players occupy the same space, they'll neutralize each other. It's an amazingly tight positioning test, as one wrong move could take 10% of the raid out of the fight.
Echo and Complexity-Limit both reached Denathrius with a day left in their raid weeks. But as Echo got into their first couple of pulls, their stream cut to black. They didn't want to show their first day's progress on him, which prevents Complexity-Limit from stealing any of their strategies. Complexity-Limit had already streamed, but they chose to delete that day's video from their channel. Both guilds falling back into old habits learned from World First races of expansions past. It's hard to fault them, both of the guilds are exceptionally close in progress — Complexity-Limit's best pull is around 40% and Echo was sitting at 25.9% before their weekly resets.
It's a new week
It's a brand new week in Shadowlands. Everything has been reset and it's time to rush through the raid while crossing your fingers for the right loot. Those extra 27 pieces of gear from clearing back to Denathrius could mean the difference between first and second place. Complexity-Limit has already recleared back to Sire Denathrius — snagging the world third kill for Stone Legion Generals on the way by. They also threw in a couple more Heroic kills of the Generals and Denathrius for more chances at their item level 220 weapons and trinkets. After their blisteringly fast reclear they managed to end their day after 97 attempts. Their closest pull ended at 16.2%.
Echo is in the midst of their reclears, but they've been moving slower. There have been a couple of wipes on some of the earlier bosses in the Castle that have put them more than an hour behind Complexity-Limits time. They had better pulls before the reclear, so Echo is banking on the extra power gained from the additional gear to get them the edge they need.
With how close these two guilds are to downing the tyrannical ruler of Revendreth — every second counts. I'd be surprised if he lasts the rest of the day.