What would you like to see from future Torghast events?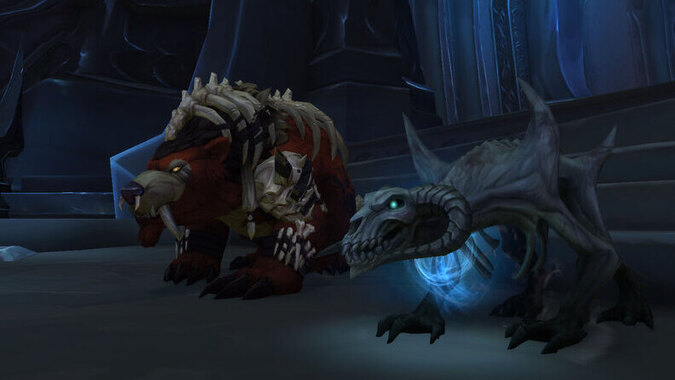 Torghast, Tower of the Damned, is one of the features of Shadowlands that is supposed to be something we're doing all expansion. This week we got to see what the Torghast events are going to look like. If you haven't run yet, at the beginning of your run you're offered some new Anima powers that include the ability to adopt powerful Beasts to fight alongside you. As you progress you'll see more Anima powers show up that will make those Beasts into formidable allies in your fight against the Jailer's forces.
Getting my very own dog was a pretty cool surprise when I went into Torghast, and I loved seeing new possible Anima powers showing up to build around. Which got me thinking about the other two announced events. We know that their names are "Chorus of Dead Souls" and "Unbridled Darkness" but beyond that — we don't know anything about them.
For the Chorus of Dead Souls, I really hope that we get to hang out with some of the more famous dead characters from Warcraft. How amazing would it be to recruit Varian or Saurfang to fight alongside you for one of your Torghast runs? Or we could actually become one of those characters. We are in the Maw so maybe they'd trend toward the more nefarious end of the spectrum. Imagine getting to play Zul'jin or Lei Shen for a run in Torghast. I know that I'd keep coming back until I got to try each of them out at least once.
I'm pretty sure that Blizzard has already told us what Unbridled Darkness is going to be though — remember the Tomb of Immortal Darkness? I can't imagine a better way to make Torghast a truly nightmarish proposition than turning out all of the lights and having to navigate through echolocation and candlelight. You wouldn't want to enter without at least one Holy Paladin for their command over the light.
I hope that we see more than just these three events as more patches happen. I'd love to get more and more powers and mechanics added into Torghast. How about you, what do you think we'll see from the next couple of events? What kind of powers would you like to see Blizzard add alongside them?