Battle.net app update aims to transform into a sleek social gaming app
Battle.net has been a part of Blizzard's gaming presence since the days of Diablo 2, and over the years it's been integrated so thoroughly into Blizzard's games that other companies have basically tried to rip it off, with mixed success. It's even so widespread that non-Blizzard Activision games like Destiny (back when it was an Activision game) and Call of Duty have made appearances on the platform.
It's a sign of the importance of the game platform that a new update is rolling out soon with a host of changes to bring the venerable old Battle.net up to date. There's a heightened focus on using Battle.net as both a gaming and a social hub, as well as making it easier to browse for information from the Battle.net app overall. Anyone familiar with other platforms like GOG Galaxy or Ubisoft Connect has seen how the platforms inspired by Battle.net have approached trying to make gaming into a social networking hub, a goal Blizzard has maintained for Battle.net for years.
It now seems apparent that Blizzard is ready to push that goal forward by making Battle.net something akin to a browser that allows for more information to be accessible at a glance as compared to the older version that's being phased out. This also means that there's more room to grow — rather than that sidebar of games, the games page will display more of your games front and center, and there's a clear sense that they're anticipating a need for more space. Also, the social pane, where you can keep track of your friends online and what games they're playing, has seen an expansion, and the notification pane is also revamped.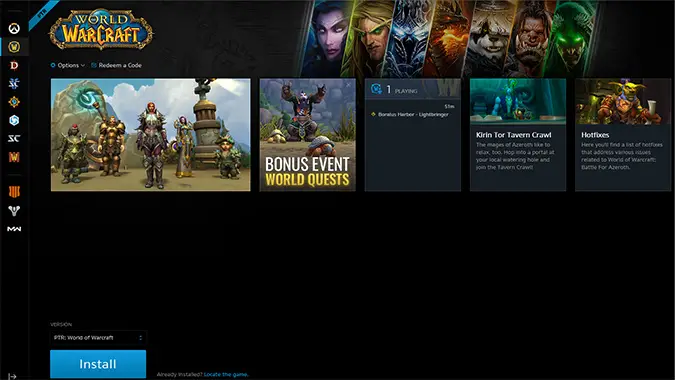 Battle.net as a social gaming platform
All in all it feels like Blizzard has finally taken notice of what some of its imitators have been doing with their versions of the same concept. So now Activision-Blizzard is building the groundwork for Battle.net to become their big gaming hub, in the gaming world's version of everybody has a streaming service now this is everyone has their own gaming hub now, so why don't we? Considering that Battle.net was at the forerunner of all these gaming hubs, it's probably about time for the app to catch up with the competition. But I do find myself wondering how this will work out in the future — will Activision migrate other games like Sekiro: Shadows Die Twice or Skylanders to the platform? We forget that there are around nine studios owned directly by Activision that could show up on Battle.net, especially if Activision-Blizzard intends to leverage the service as their answer to Steam or the Epic Games store.
Games are a massive, multi-billion dollar industry now, and this update could be another sign of Blizzard wanting to diversity into spaces like mobile — as we've seen from Diablo Immortal — and consolidating everything like this could mean in time we even see games like Candy Crush on the launcher. It sounds a bit ridiculous now, but remember, King is one of Acti-Blizz's big dogs — the company worth billions and it has a huge footprint in spaces where traditional gaming companies aren't.
Speculation aside, it was time for Blizzard to bring the Battle.net app up to date with a big revamp. So many companies have ripped it off, and it was past time for Blizzard to catch up. And as soon as my version updates I'll be able to tell you if they succeeded.