Diablo Immortal has a Paragon system, and it improves on Diablo 3's model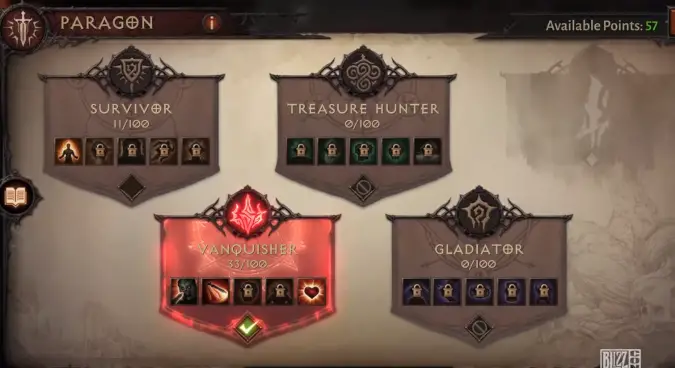 Watching the Diablo channel as part of this year's BlizzConline, I was surprised to discover that we're going to see a return of the Paragon system from Diablo 3 in Diablo Immortal. When speaking of his experience playing in the technical alpha for Immortal, presenter and Diablo streamer Bluddshed discussed spending over 100 hours grinding to max level on a variety of playable characters in the game and specifically mentioned having gotten some Paragon levels under his belt in the process.
This is one of the things I was surprised by — as much as it's clear that Diablo 3 is a heavy inspiration for Diablo Immortal, I wasn't expecting for the game to bring Paragon leveling into the game, as Lead Designer Wyatt Cheng later confirms will exist in Diablo Immortal to help provide a sense of progression when gear doesn't drop as often, due to Immortal having a slower drop rate more akin to earlier Diablo 3 than the current game.
There's a large amount of content in Diablo Immortal, with systems like Bounties and a bigger variety of content than Diablo 3 having to use Greater Rifts as their main gameplay loop. Progression is more multi-faceted with gems, legendary collection, and now Paragon all serving in parallel to help make a character's power increases more wide ranging. The game's MMO-like structure also means that having Paragon involved as its own kind of reward for when gear doesn't drop serves as the game's version of bad luck protection, ultimately — you may not get stronger because you didn't get the item you wanted, but you do get stronger over time regardless.
The Paragon system was designed from scratch for Diablo Immortal, and while it is inspired by Diablo 3's system, it is built to sustain itself over the course of years with multiple trees and the ability to add new Paragon trees in the future according to Wyatt Cheng. The trees have specializations and nodes within the various trees, some of which give passive bonuses while others grant active abilities. So while it's inspired by the Diablo 3 system, it's a more modular, more branching one in Immortal.
I very much hope to get into some kind of test at some point so I can play around with this system and see how it feels — it sounds like it might be a significant improvement over the Diablo 3 model.