Patch 9.1 sends us back to Torghast in the Sanctum of Domination raid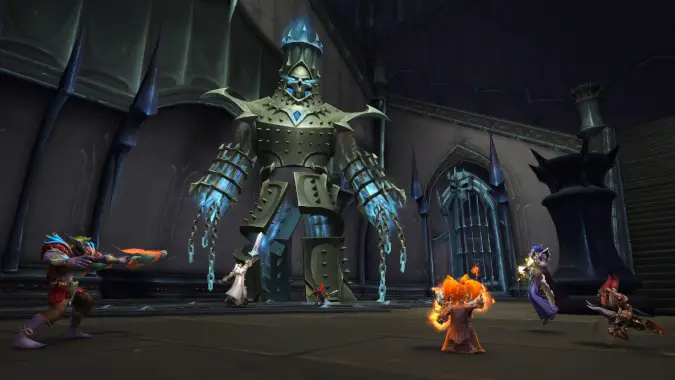 Patch 9.1, the first major patch in Shadowlands, will come with a brand new 10-boss raid: Sanctum of Domination. The raid is located in Torghast, which further increases the threat of the Jailer's ominous prison. We don't know all of the bosses of the raid just yet, but we do know a few of the monstrosities we'll encounter in the Sanctum of Domination.
If you don't want to know the details about who we will (and won't) run into in this in this new raid — and the potential story spoilers that accompany them — turn back now.
First, someone we won't be fighting in the Jailer's Sanctum: the Jailer himself. Instead of the Jailer, we we'll be encountering something equally annoying: The Eye of the Jailer, which you probably know as that ring that limits your time in The Maw.
The Sanctum of Domination is taking plenty of inspiration from current Torghast runs, because (speaking of limiting time) the Tarragrue will be a boss. If you haven't run up against the Torghast death limit lately, that's the giant creature that's locked up in Torghast and chases you down when your group has run out of lives. In Torghast, that means you have to run for the exit, because the Terragrue is invincible. Now, players will have their revenge and will be able to fight back to him.
One figure who has had a major role this expansion is Kel'Thuzad. A central point in both the Necrolord and Venthyr Covenant campaigns, he seemed like he was being setup as a future raid boss. And here is the payoff.
And after an entire expansion of increasing villainy, we'll finally be facing Sylvanas as a raid boss. According to Jeremy Feasel, senior game designer, the fight will change the story in the Shadowlands. Sylvanas will be the final boss of the raid, and not of the expansion. Players will have the chance to fight her, and not just in an Alternate Universe time-traveling dungeon this time.
As for what else will be in this raid? That's still up for players to guess.