What's the fate of the Archon?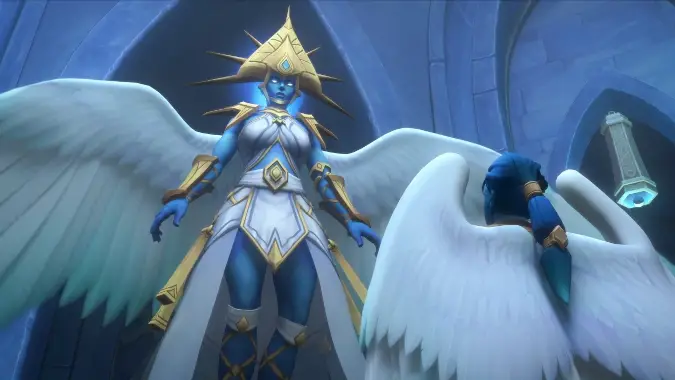 The cinematic for World of Warcraft's patch 9.1 Chains of Domination debuted yesterday during BlizzConline. It revolves around Anduin being corrupted by the Jailer. Working in his servitude, Anduin attacks Kyrestia the Firstborne, better known as the Archon, and steals from her a key that the Jailer needs. This kicks off the story and the next part of the campaign in 9.1, where the Covenant leaders are going to have to work together to prevent further destruction. Who is next? Are they all in danger? They all may hold the same kind of key that Jailer will need.
However, the cinematic left the question — what happened to the Archon? Was she dead? Was she just injured? Could the key be removed without killing her? Turns out, the cinematic did answer that question. In the BlizzConline WoW Q&A Narrative Designer Steve Danuser, confirmed that she survived. They wanted to confirm that, but were short on time. After Anduin takes the key, there is a quick shot where she moves her hand, and that was the evidence she was alive, just seriously injured. There will be more confirmation in the follow up quests as the story progresses when the patch launches.
It is a good thing she survives. It was discovered in the Spires of Ascension dungeon, that the lives in Bastion rely on her. At the end of a dungeon, a Warlock's Doomguard went on to attack the Archon. When she died, her final line, which Blizzard made a point to put into the game, was, "As the Archon perishes, all life in the zone is wiped out!" This would have implied that the Jailer, using Anduin as his tool, was taking down each of the zones of the Shadowlands to free himself.
It has been stated that the magic in the Heart of the Forest was used to lock away the Jailer. Does that mean the key is there, or just that The Winter Queen tapped into it to cast magic before putting the key inside of herself? And what about Sire Denathrius, who was locked up after the raid? And the missing Primus?
We'll be eagerly awaiting any further details in patch 9.1.