Hearthstone's Shaman Hero Power is changing: Wrath of Air Totem is out and Strength Totem is in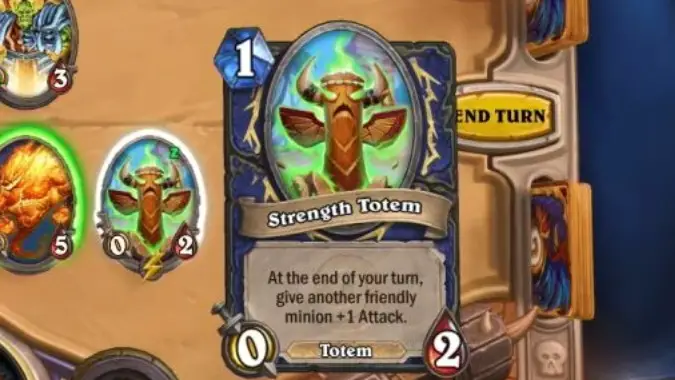 The advent of the Core Set for Hearthstone will bring many changes, including cards being added or removed, cards being changed, and in one specific case, a Hero Power being slightly reworked. In the What's Next panel, Hearthstone Game Designer Alec Dawson explained that Shaman will be the class most affected by all the numerous Core Set changes. Not only will their Overload cards be getting stronger, but their very Hero Power will be receiving a change — a rarity in the history of Hearthstone. This has only happened once before: when Rogue's Dagger Mastery was nerfed so it didn't increase your equipped weapon's attack, and only equipped a 1/2 pair of daggers.
Now Shaman's Hero Power is getting a buff. Totemic Call will still call one of four random totems to come to your aid, but the old Wrath of Air Totem, which gave you +1 Spell Damage will be removed. In its place, Shaman will call upon the brand new Strength Totem, which has an effect that reads:
At the end of your turn, give another friendly minion +1 Attack.
Instead of focusing on the Shaman's penchant for hurling spells at their enemies, this totem directs its power towards minion buffing, which is a whole other facet of the class. Although Wrath of Air used to be a tremendously effective totem for certain situations — right before a board clear with Lightning Storm, for instance — it wasn't a totem that was all-around useful, and it wasn't useful in most situations, save for specific decks that focused more on spells.
Strength Totem seems like it will be applicable to a wider variety of situations. It could even end up buffing your other totems, allowing you to attack with them when that wouldn't have been possible otherwise. It feels like Blizzard has a few goals with this change. The revised hero power reduces the variance in how effective Shaman board clears are (due to the presence or absence of Wrath of Air) and adds a more solid base for your minion-trade business. It also gives an increased likelihood that your totems will be useful in combat, feeding from the synergy with all the Totem-buffing cards that the class already has.
All in all, it will be interesting to see how this change shakes up Shaman gameplay, and where it leaves them in the meta when Year of the Gryphon starts.