Exciting swag in the Blizzard Gear Store celebrates BlizzConline and the 30th Anniversary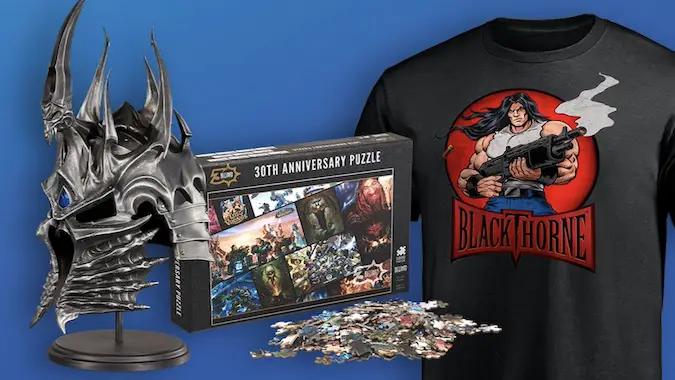 It doesn't take much to look at all the revelations coming out of a BlizzCon coinciding with a major anniversary for Blizzard itself and see the plethora of merchandising opportunities just waiting for you to purchase them. There's some great celebratory merchandise in the Blizzard Gear Store tied to both events.
I'm going to point out my favorites and provide you specific links to other items you might find interesting.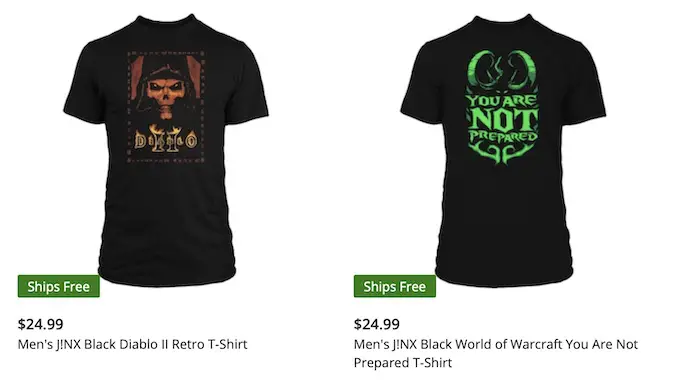 Refresh your wardrobe
First of all, there are over 130 items attached to BlizzConline and the anniversary. Of that number, fully half of that is clothing; shirts and jackets or hoodies. I am really partial to zip-front hoodies so I was excited to see two special pieces. Unfortunately, they are hugely popular so by the time you read this you might be out of luck in securing your own. Pull-over hoodies are in abundance, however, plus there are jackets. The Ragnaros jacket looks pretty sweet.
Tee-shirts and polo-style shirts are in abundance. Every game, BlizzConline, the 30th anniversary, and the Arcade games have representative shirts. All the tees start at $24.99 with polos starting at $49.99. Having purchased Blizzard-branded clothing in the past, I can say it's good quality. I hear the siren sound of a "You are NOT prepared" tee. I worked so hard at the end of The Burning Crusade to get attuned for Mount Hyjal and Black Temple and then the attunement was removed. I missed it by two weeks. So, you know… the line.
I salute those of you who got Hand of A'dal. The quests are still in the game, but no title is awarded. There's still a vicarious thrill when Illidan yells across Shadowmoon Valley, "Come [insert name], The Black Temple awaits." And really, if you played during TBC, this is a catch-phrase you use in so many situations — might as well have it on a shirt.

We're spending a lot of time at home, may as well decorate it!
We all collect items representing the things we love. The Blizzard game universe is no different. Because we're inside in the middle of a pandemic, our personal space can be reflective of these games and the Gear Store has a large collection of items to consider. The above painting is of events from WoW Classic. Every game has wall art. Maybe you'd like a canvas featuring Hogger, the recent edition to Heroes of the Storm. How about some Starcraft or Diablo? Glam up those walls.
Maybe you'd just like to chill. Grab an art book, curl up with a murloc, and read about the role art can play in the games. Overwatch, Diablo, and Hearthstone have art books available. Glimr is the murloc plushie available this year, just waiting to make your couch look cozier. Personally, I'd love to see more whelplings. I have every one they've made hanging from the ceiling in my hallway because whelplings fly, but Glimr is adorable and will happily watch over your gaming.
Speaking of gaming, is that mousepad looking dingy? There are three desk mats are available. And when you're done reading or gaming, consider preordering the latest WoW cookbook, New Flavors of Azeroth, which ships in June.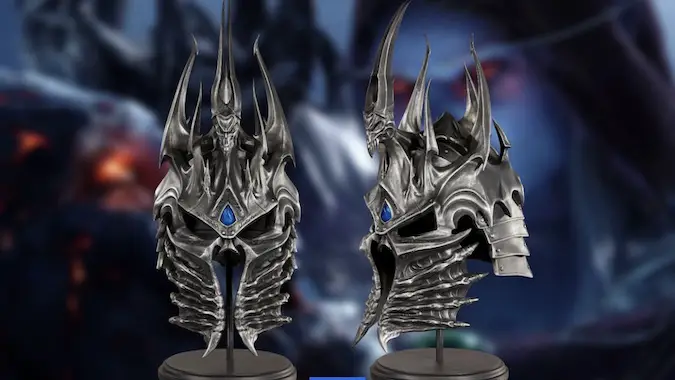 Where can I put this so I'm not constantly distracted by the whispering?
Let's be honest — the most impressive item this year has to be the replica Helm of Domination. The craftsmanship on this piece is amazing. If you had the spot to display it, this would be an epic addition to a shelf.
There's more in the store from pins to lanyards to puzzles. You can also lay your hands on limited quantities of 2019 BlizzCon gear.
Right now, any order to the Continental US, US Territories, and APO/FPO addresses ship free. It doesn't matter if you're buying the 2019 coffee mug or one of the art prints — it ships free. The Helm and any statues are not a part of this promotion. You earn Fan Cash on all your purchases and, if you sign up for email offers, get to take an additional 15% off your items. The banner on the site says free shipping "ends soon," but I couldn't find an actual date. Still, given how fast some things sell out, waiting for something might not be in your best interest.